Kellyanne Conway's husband throws shade at Donald Trump over travel ban tweets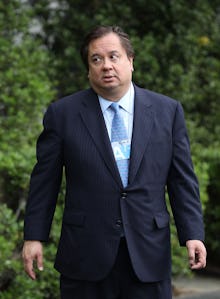 George Conway, husband of presidential counselor Kellyanne Conway, threw some shade at President Donald Trump on Monday, criticizing Trump's tweetstorm on Trump's travel ban that's making its way through the federal court system.
"These tweets may make some ppl feel better, but they certainly won't help OSG get 5 votes in SCOTUS, which is what actually matters," Conway tweeted, a reference to Trump's Monday morning comments on the travel ban. "Sad."
The tweet refers to the Office of the Solicitor General, which has appealed the blocked travel ban to the Supreme Court.
The Washington Post confirmed the twitter account does belong to George Conway. Kellyanne Conway also follows the account, and tweeted at it on Father's Day 2016.
"Happy Father's Day @gtconway3d and all the wonderful dads & granddads!" she tweeted at the time.
Her husband's statement knocking Trump for his Monday morning tweets was a far cry from his her own public thoughts on the tweetstorm.
During an appearance on NBC's Today Show, Kellyanne Conway suggested the media was blowing Trump's tweets out of proportion, saying reporters should be covering what Trump "does as president," rather than his tweets.
After George Conway's tweet gained attention, he sought to clarify his post in a series of tweets.
"Just to be clear, and in response to inquiries, I still VERY, VERY STRONGLY support POTUS, his Admin, policies, the executive order and of course, my wonderful wife. Which is why I said what I said this morning. Every sensible lawyer in WHCO and every political appointee at DOJ wd agree with me (as some have already told me). The pt cannot be stressed enough that tweets on legal matters seriously undermine Admin agenda and POTUS--and those who support him, as I do, need to reinforce that pt and not be shy about it."
George Conway is a partner at Wachtell, Lipton, Rosen & Katz, one of the most prestigious law firms in the country. In 2015, profits per partner at the firm were $6.6 million a year, according to Law360.
He had been in the running to lead the Civil Division of the Department of Justice, but he withdrew his name from consideration on Friday, according to Politico.
June 5, 2017 1:32 p.m.: This article has been updated.