'Overwatch' ARTitude Controllers: Check out these custom character-themed models for PS4, Xbox One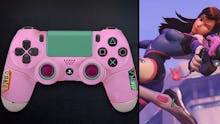 Blizzard just unveiled a set of cool Overwatch character-themed PS4 and Xbox One controllers — but just like Overwatch's loot boxes, you'll have to rely on luck if you want to get your hands on one.
According to a blog post on Blizzard's European site, these controllers, made in partnership with ARTitude, will be given away through "various contests and giveaways organized across Europe." Mic has reached out to Blizzard to ask whether those in the United States will be able to win them too.
Regardless, most of the controller designs look pretty slick. Check out a few of the best below. To see the full lineup, check out the official blog post on Blizzard's site.
Overwatch ARTitude controllers
D.Va's has a bright pink color scheme and decals that match the ones on her MEKA.
Junkrat's has an appropriately chaotic, graffiti-style look.
Lúcio's features his frog logo on the PS4 touch pad, as well as some nice gold detailing on the thumbsticks and shoulder buttons.
Mercy's is simple, but the wing design is pretty eye-catching.
Sombra's is probably the best of the bunch, featuring a gorgeous, vibrant pink circuitry design over an eggplant-colored controller.
When Blizzard announces more details about how to win these controllers, we'll let you know.
More Overwatch news and updates
For more on Overwatch, check out the rest of what Mic has to offer. Here is an essay about how Efi Oladele was a missed opportunity for Overwatch, a deep dive into the issue of sexual harassment in Overwatch voice chat, an unintentionally hilarious infographic showing the most popular Overwatch characters in each state, a criticism of Blizzard's failures in its design of Symmetra and a dive into a cool trend on Tumblr that converts your most-played heroes into a psychedelic illustration.