What are the new features in iOS 11? Here are the changes coming to your iPhone.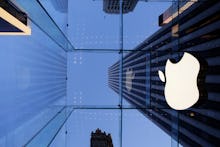 Apple announced the newest iOS software — iOS 11 — at its annual Worldwide Developers Conference keynote address on Monday. The tech giant's software upgrade was highly anticipated — it falls around the 10-year anniversary of the original iPhone release (June 29, 2007); iOS 11 will be the software running on the commemorative iPhone releasing later this year: the iPhone 8.
MacOS 11
Apple announced its latest operating system, High Sierra, on Monday. It has autoplay blocking in Safari so you won't have to hear loud, autoplay videos again. Intelligent tracking prevention will help protect your privacy online, Apple's senior vice president of software engineering, Craig Federighi, said.
Apple is updating its file system and its graphics for MacOS 11. It will be available starting Monday for developers and will be a free upgrade for everyone else this fall.
iOS 11 features and changes
Messages
With the iOS 11 update, you'll be able to keep all of your Messages in the cloud, making it easy to sync different devices and keep your iPhone less clogged. You can delete your Messages from your iPhone, since they'll all be stored in the cloud.
Apple Pay
There's also an update for Apple Pay, in which you can send money from person to person, instead of just from person to business. Watch out, Venmo!
Siri
Siri's getting an update, including a new voice. It also has a new look, which can give you multiple results at a time. It will also be able to translate your words in real time into a number of different languages. Siri will learn about your interests based on your use, Federighi said.
Camera
The iPhone 7 and iPhone 7 Plus' cameras are getting upgraded. Your images will be better quality and the file size will be more compressed. Live Photos have a bunch of new updates too. You can trim and edit Live Photos on your iPhone, choosing a specific frame from the Live Photo as the main still.
You can also create looping Live Photos and long exposure Live Photos with iOS 11.
Control Center
Control Center has a new look. Everything you'll need is on one page, so you don't have to scroll. You can use Force Touch to see more features.
Maps
With iOS 11, Apple Maps will feature detailed maps of the inside of malls, airports and other large buildings. It will also show you the speed limit when driving.
There's a new feature called Do Not Disturb While Driving, which will black out your iPhone's screen while driving, so you won't see notifications. You can create an automated response to tell your friends that you're driving and won't be responding to texts.
Apple Music
Apple Music is getting more social. It will soon show you what your friends have been listening to lately.
App Store
Apple's App Store is getting a redesign, which will feature new tabs called Today and Games. Today will show you the hottest new apps, and Games will feature the coolest iPhone games.
iOS 11 for iPhone 8
The iPhone 8 will likely be released with iOS 11 installed. Expect to learn more around September, at the yearly iPhone keynote.