New MacBook Pro 2017: Apple just unveiled your next laptop. Here's everything you need to know.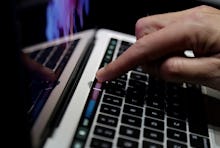 The new line of refreshed MacBooks and MacBook Pros are here. While there's no major overhaul for the line of computers, Apple announced what's coming to its laptops at the Worldwide Developers Conference keynote on Monday: increased speed, greater memory capacity and a new operating system called High Sierra.
MacBook Pro price and release date
The new line of MacBooks and MacBook Pros will have an updated Kaby Lake processor and new pricing. They are available now.
The 13-inch MacBook Pro starts at $1,499. If you really want that Touch Bar, it'll cost you $1,799 on the 13-inch laptop or $2,399 on a 15-inch model.
macOS update: Introducing High Sierra
At WWDC 2017, Craig Federighi, Apple's senior vice president of software engineering, unveiled the new operating system for desktops: High Sierra. Yes, there were some weed jokes, and Federighi assured us it was "fully baked."
One key feature: autoplay blocking. Safari will be able to detect annoying autoplaying videos in browser tabs and give you the option to play or not.
It will also launch "intelligent tracking prevention," which uses machine data to protect your privacy (we'll report more details as they come).
Photos will get some minor updates, including improved face detection, sorting tools and editing options.
The new Mac filing system, APFS, will be much faster and more responsive.
Graphics will get an upgrade too, and — this is exciting — there'll be support for virtual reality on the Mac.
iMac updates: Meet the iMac Pro
Apple will update the iMacs with brighter displays, higher memory capacity, fusion drives on all 27-inch models and USB-C connectors that support Thunderbolt 3 — great for your external displays. Graphics will get a bump too. The entry-level 4K iMac will start at $1,299.
Also, there's this Darth Vader-inspired iMac Pro with some spiffed-up specs:
It's configurable with up to 128 GB of RAM. It costs $4,999.