Xbox E3 2017 Predictions: Scorpio, games, VR and everything else we expect from Microsoft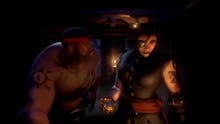 E3 is the biggest annual news generator in gaming, and the 2017 version is a mere week away. Microsoft is giving us a glimpse into the future of Xbox at 5 p.m. Eastern on Sunday — and here's what we expect to see.
Xbox E3 2017 predictions: It's Scorpio season
By far the biggest thing Microsoft has this year is Project Scorpio, the 4K and VR-ready Xbox One. The specs were released earlier in 2017, so all that remains are a proper console name, a release date, a price and a real look at what some games look like on it. Yes, that's a lot.
Expect Scorpio to headline the press conference in a major way. We'll likely see something like Forza Motorsport 7 running on it, seeing as how Microsoft already showed it to Digital Foundry in April. Shiny, realistic cars are always a crowd pleaser.
Xbox E3 2017 predictions: Give us some games
Aside from Forza, which is a certainty given the series' yearly release schedule, many of the Xbox One's biggest exclusives in 2017 are already known quantities. Back when Scalebound was cancelled, Microsoft committed to Rare's multiplayer pirate adventure, Sea of Thieves, and the destructible open world of Crackdown 3. Those games still need firm release dates, so we're expecting E3 to have those details.
Microsoft also included State of Decay 2 in its list of big 2017 games, which would be quite a step up from the downloadable first game. Game Informer theorized it could get AAA treatment from Microsoft. We'll see.
Of course, there will be unannounced games. Halo 5 came out almost two years ago, so maybe Master Chief will make his presence felt on Scorpio. They could even get a big splash with something like Red Dead Redemption 2, but that's pure speculation. Microsoft needs games to convince people Scorpio is worth buying, so expect at least one big game reveal from the show.
Xbox E3 2017 predictions: Yet another VR headset?
Microsoft has made it clear Project Scorpio will be a part of the current VR trend in gaming, but we don't know to what extent. The company is supposedly making its own headset, meaning your Rift or Vive probably won't work with Scorpio.
Showing a new console, a bunch of games and a VR headset might be a bit much for one press conference. Still, it's possible — maybe even likely — that VR will be talked about in some fashion.
My dark horse prediction? Blinx: The Time Sweeper VR.
More gaming news and updates
Check out more video game content on Mic, including which Pokémon are actually the best and why black players can never seem to get custom characters that look like them. Learn more about how blind gamers are getting in on the fun and how Injustice 2 seems to give its female characters the short end of the stick. See why we love Twintelle (and why we hate Twintelle) in the upcoming Arms, and don't miss our guide to dodging blue shells in the Mario Kart 8 Deluxe — you can thank us later.