'Breitbart' reporter fired after racist tweets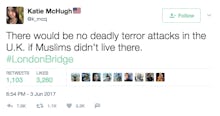 Breitbart reporter Katie McHugh was fired from the right-wing website after tweeting a series of racist remarks following a terrorist attack in London over the weekend, CNN first reported Monday.
Breitbart editor-in-chief Alex Marlow reportedly announced McHugh's departure to staff on Monday.
McHugh confirmed that she had been fired on Twitter, linking to a fundraiser on the right-wing crowdfunding platform WeSearchr, which is raising money on McHugh's behalf.
"Breitbart News fired an editor for speaking frankly about Islam and Muslim immigration," McHugh told WeSearchr, which was founded by the internet troll Charles Johnson. " ...I said nothing wrong."
McHugh caused an uproar after tweeting on Saturday night that "there would be no deadly terror attacks in the U.K. if Muslims didn't live there." The tweet prompted immediate backlash for its historical inaccuracy and for its explicit bigotry toward Muslims.
Several Breitbart reporters told CNN on Sunday that they found McHugh's remarks "appalling," "terrible" and "dumb."
On her Twitter feed, McHugh pinned the offending tweet to the top of her profile, and she retweeted remarks defending her and calling for the firing of the Breitbart employees who spoke to CNN for the story.
McHugh has a history of making racist remarks on Twitter.
A request for comment to a Breitbart spokesperson was not returned.