London Attackers' Names: Khuram Butt, Rachid Redouane identified in London Bridge killings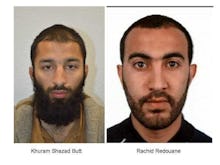 United Kingdom Metropolitan Police have named Khuram Shazad Butt and Rachid Redouane as two of the men responsible for a deadly attack on London Bridge Saturday evening that left seven people dead and dozens more injured.
The two men, along with a third suspect, were shot dead by U.K. police at the scene of the attack. 
The Islamic State terror group claimed that the men had acted on its behalf. The men mowed down pedestrians using a vehicle, and then began attacking them with knives.
Detectives believe that Butt, 27, was a British citizen who was born in Pakistan, and that Redouane, 30, had claimed to be Moroccan and Libyan. Both men were reportedly from Barking, east London.
Police have not yet released the name of the third suspect, but said in a report that an investigation into his identity was ongoing.
The same report described the ongoing investigation as "fast moving and complex," and noted that officers have arrested 12 people thus far – seven women and five men - in connection to the attacks.
Saturday's incident was the third instance of deadly terrorism in the U.K. in 2017. The first, which took place in March, was similar in nature, with the lone attacker using a vehicle to mow down pedestrians near London's Westminster Bridge. The second attack, which took place just two weeks earlier, was the result of a deadly suicide bombing inside of a packed Manchester concert hall that claimed 22 lives.