Ashley Graham speaks out about being sexually harassed at 17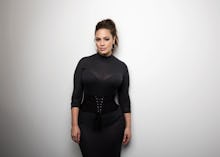 For the first time, Ashley Graham is speaking out about an incident of sexual harassment dating back some 12 years ago.
In an interview in the July issue of Glamour, for which she appears on the cover, the 29-year-old plus-size supermodel recalled a photo assistant on the set of a shoot calling her into a closet, exposing his penis and asking her to grab it:
There was an incident on set of a campaign job when I was 17 years old — I haven't told this story — and there was a photo assistant who was into me. He was like, 'Hey, come here,' and he led me into a closet. And I was like, 'What?' I thought he was going to show me something. And he pulled me in, and he pulled his penis out. And he was like, 'Grab it.' And I was like, 'No! That's disgusting.' I freaked out. And thank God I was closer to the door, and I just bolted out.
Graham said she didn't tell anyone at the time, and even kept silent when she continued to see him at other shoots.
"I told myself, ever since that incident, that I wasn't going to allow someone at work to manipulate what I wanted to do on set," Graham said, responding in part to a question about her "boundaries" on the job. "So any image that you see out there is one that I wanted to take."
Graham also discussed another experience with sexual violence, one that she elaborates on in her new book, A New Model: What Confidence, Beauty & Power Really Look Like.
This incident happened when Graham was even younger — just 10 years old — and an 18-year-old boy forced her to grab his erection while he was at her parents' house. Graham said that, being so young, she didn't yet have the vocabulary to call what happened to her sexual assault. What's more, she didn't understand it wasn't her fault.
Now she does.
"Then, it was like, 'Did I do something to provoke that?' Or, 'Did I give them a signal that it was OK?'" Graham said. "The insecure girl inside me was like, 'Well, maybe I did something.'
"To all those girls out there: No, you didn't do anything."