Betty Who, Zachary Quinto, Whoopi Goldberg and more lend their support to new #PrideIs T-shirt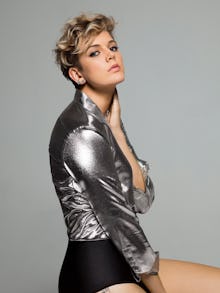 To kick off Pride month, multimedia artist Baron Von Fancy is teaming up with the Hetrick-Martin Institute, a New York City-based non-profit supporting LGBTQ youth, and Print All Over Me to create a limited edition T-shirt emblazoned with #PrideIs, followed by a blank space.
The month-long campaign has found ambassadors in a number of LGBTQ celebrities and allies including Zachary Quinto, Betty Who, Whoopi Goldberg and The Walking Dead's Daniel Newman.
"Pride means many things to me, but particularly finding a community of people who love and accept you for who you are through every good and bad moment," Who, who has performed at Los Angeles Pride 2014 and in a 2016 Fire Island Pines concert, said in an interview with Mic. "Pride is about finding space to be yourself that is safe and actually makes you feel good."
Asked what being an ally means to her, Who described it as just a fancy word for being a friend. It's "being a friend to someone who needs it, letting the people you love know that they are allowed to take time to 'figure it out,' and speaking up when you see behavior that is judgmental or demeaning to fellow human beings." she said. "Because at the end of the day that's all we are, right? Humans just trying to figure out who we want to be."
The T-shirt is available now for $32, with 100% of the proceeds from the sale donated to the Hetrick-Martin Institute.
To see a full rundown of pride-themed merch that actually benefits the LGTBQ community, check out Mic's comprehensive list.