This is what we know about the first two episodes of 'Game of Thrones' season 7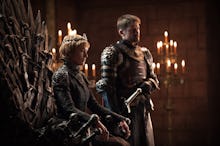 From the looks of the unassailably awesome trailer, the upcoming season of Game of Thrones will be rife with heart-stopping situations. And, if any of the previous seasons are par for the course, it will also have its fair share of surprises audiences never saw coming.
That said, Game of Thrones fans have been hard at work trying to decipher the hints coming out of the rumor mill. While casting updates and new trailers have made some suspicions clearer, ultimately there hasn't been too much on which fans can bank. However, that was before the Toronto Sun released teasers from scenes filmed back in October.
Apparently, reporters from the publication got to visit Titanic Studios in Belfast, Ireland, where much of Game of Thrones is shot. Not only did they see the sets and meet the cast and crew, they saw a couple scenes from season seven in the making. Cue everyone and their moms' jealous rage.
The two scenes Sun employees were privy to — one from episode one, the other from episode two — were similar in style but different in their implications for season seven.
Here's what can be deduced from the Toronto Sun's experience.
Women will take center stage in Westeros
In an episode two scene, several major female players gather around a map of Westeros with Daenerys Targaryen at Dragonstone, her new headquarters. It's likely they're helping plan her invasion of Casterly Rock in her quest to take the Iron Throne. The women in attendance are Yara Greyjoy, Ellaria Sand, Missandei and Lady Olenna Tyrell. (The ladies were joined by Tyrion Lannister and Theon Greyjoy.)
Indira Varma, who plays Ellaria, did the scene several different ways during filming, each with different intonation. Eventually, Mark Mylod (the episode's director), told Varma to say her line "cold, but without anger." Suffice to say these ladies mean serious business.
The scene is suggestive of something that's been developing in the series for some time: Women are taking their rightful place as leaders of this world. All these formidable female figures in one room also implies they know working together will help them win the Iron Throne. Sorry, Westeros men. You had six seasons of relatively unmitigated control — it's time to give the ladies a turn.
Dragons, dragons everywhere
Outside of getting to watch what sound like intense scenes, the Toronto Sun reported seeing some massively amazing props that were, well, massive. They watched a team of sculptors create a huge dragon skull out of what looked like polystyrene foam, and were told it was one of 40 destined for a shoot at a location in Spain.
What's more is they aren't just for decoration — one of the workers said there might be action taking place on the skulls. At the very least, they'll be on display somewhere, perhaps similar to how they once lined the throne room in the Red Keep under Targaryen reign. Whatever the heads' purpose, however, it seems apparent dragons will be prominently featured in the upcoming season.
Winter is here
The other battle-planning scene takes place in episode one in Winterfell's banquet hall. It features Jon Snow, Sansa Stark, Brienne of Tarth, Ser Davos, Tormund Giantsbane and Lady Lyanna Mormont talking about the forthcoming threat of the White Walkers. As was made clear in the previous season, the war against the White Walkers is a whole different animal and thus requires unique tactics.
If anyone knows this, it's Jon Snow, the former member of the Night's Watch who's already battled the undead beings. In the scene, he reveals to his compatriots the key to taking them down.
"Dragonglass kills White Walkers, and it's now more valuable than gold," Snow said.
Maybe you do know something after all, Snow.
The trick, of course, will be finding enough dragonglass before the White Walkers gain a foothold in Westeros and end civilization as people know it.
Now who's pumped for the season seven premiere of Game of Thrones on July 16 on HBO?
Mic has ongoing Game of Thrones coverage. Please follow our main Game of Thrones hub here.