7 powerful photos of vigil for London attack victims show strength, resilience of city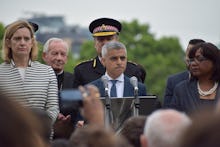 Londoners have been quick to show resilience in the face of Saturday's terrorist attack, defying media reports that the city was "reeling" in the wake of recent tragedies with messages of strength.
On Monday, hundreds of Londoners showed that strength and solidarity by coming together for an evening vigil near the site of the attacks. The event showed support for the victims and offered a clear condemnation of the "cowardly" terrorists who committed atrocities in the London Bridge area, strengthening London's resolve to not let the terrorists win.
"[Londoners] must show that we're not scared and we shouldn't let [the attack] ... take us over," Badriyah, a British Muslim student at the vigil, told Mic, adding she went to the event to offer condolences to the victims and support to their families.
Speaking to a large crowd gathered at city hall, near the site of the London Bridge attack, London Mayor Sadiq Khan offered a "clear message" to the "sick and evil extremists" behind the recent streak of terrorist attacks: "We will defeat you. You will not win."
"As a proud and patriotic British Muslim, I say this: You do not commit these disgusting acts in my name," Khan continued. "Your perverse ideology has nothing to do with the true values of Islam, and you will never succeed in dividing our city.
"This is our city. These our are values and this is our way of life. London will never be broken by terrorism. We will step up the fight against terrorism and we will defeat the terrorists," Khan concluded.
Londoners were invited to leave flowers for the victims in front of city hall following Khan's speech, as other groups broke off to exhibit their own acts of solidarity and strength.
The organization We Are One led the crowd in a performance of "Imagine," "Don't Look Back in Anger" and other peaceful anthems before reading a message from the family of London Bridge victim Christine Archibald:
"[Christine] had room in her heart for everyone and believed that every person was to be valued and respected. ... She would have had no understanding of the callous cruelty that caused her death. Please honor her by making your community a better place. Volunteer your time or labor, or donate to a homeless shelter. Tell them that Chrissie sent you."