'Monument Valley 2' launches for iOS — Android release date coming soon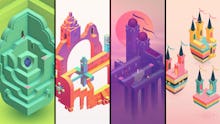 Monument Valley 2 got a surprise release during Apple's Worldwide Developers Conference event on Monday. It's available now on iOS devices for $4.99. There's no official Android release date for Monument Valley 2 yet, but it's launching "soon," according to the Verge.
Monument Valley 2: How is it different from the original?
Monument Valley 2 offers a new spin on the same gorgeous puzzle-based gameplay. This time you'll guide a mother, Ro, and child as they "embark on a journey through magical architecture, discovering illusionary pathways and delightful puzzles," according to the app store description. The new game also delves into the same "sacred geometry" lore introduced in the original version.
Developer ustwo Games notes that you don't need to have played the first game to enjoy this one, though it won't hurt your experience. The sequel also promises "brand new interactions" for a fresh experience, along with new visuals and audio.
Ustwo Games told the Verge that while the early levels in Monument Valley 2 won't stray too far from the original game, that won't last for long. Once you get going, the sequel will begin to introduce new mechanics, including portals that transport you and trees that need sunlight to grow. By the end, you'll even be able to control both characters.
The new game should also offer a deeper story than the original Monument Valley. Still, you shouldn't expect lengthy cutscenes and exposition. Instead, this is accomplished through the developing relationship between mother and child throughout your adventure.
You can download Monument Valley 2 now from Apple. The original version, which also includes an eight-chapter expansion, is also available for $3.99 in the App Store and Google Play.
More gaming news and updates
Check out more video game content on Mic, including which Pokémon are actually the best and why black players can never seem to get custom characters that look like them. Learn more about how blind gamers are getting in on the fun and how Injustice 2 seems to give its female characters the short end of the stick. See why we love Twintelle (and why we hate Twintelle) in the upcoming Arms, and don't miss our guide to dodging blue shells in the Mario Kart 8 Deluxe — you can thank us later.