Megyn Kelly's return to television gets a lukewarm reception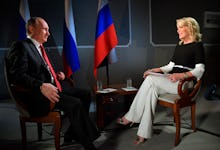 The premiere of Megyn Kelly's Sunday night news magazine program, which was supposed to be a triumphant return to the air for the ex-Fox News host, fell flat with media critics, foreign policy aficionados and political news junkies.
Kelly's first big "get" for the program — a one-on-one interview with Russian President Vladimir Putin — had been widely hyped by NBC News as a reinvention of sorts for the often-controversial news show host, who left Fox abruptly in January after it was revealed that she was one of several current and former Fox News employees alleging sexual harassment from former Fox News chairman and CEO Roger Ailes.
For NBC News, the hire seemed to be an indication that the network wanted to attract a more conservative audience, the likes of which loyally watched Kelly while she was at Fox News, and that the network intended to compete with CBS's long-running news magazine 60 Minutes. Kelly's NBC program, Sunday Night With Megyn Kelly, runs at the same time as 60 Minutes, and Sunday's program went head to head with a re-run of the CBS program.
The big takeaways of Kelly's interview with Putin were somewhat expected: Putin denied that Russia influenced the U.S. election, which is the consensus view of U.S. intelligence, and pushed back on various other reports asserting ties between members of Donald Trump's presidential campaign and Russian officials.
Some people praised the interview, acknowledging the challenge of interviewing Putin. But other reviewers were less than impressed, with much of the criticism hinging on the questions Kelly did not ask, and the answers she failed to elicit from Putin. NPR called the program "tepid," and Variety described the show as "a long way from must-see TV." Vanity Fair called the entire interview "boring," and Hollywood Reporter television critic Frank Scheck wrote, sardonically, that Kelly gave Putin was given "time enough to say nothing at all."
The program, which also featured a segment on saving African elephants and an interview with a whistleblower who exposed fraud at a drug company, attracted 6.1 million viewers, coming in behind both the 60 Minutes re-run and the NBA finals game. Among viewers 25 to 54 years old, Kelly's program beat 60 Minutes by 28%.
Kelly's highly anticipated return had already faced a few bumps before airing on Sunday. The liberal media watchdog Media Matters criticized Kelly for not identifying a member of Russian state media as such during an on-air interview in St. Petersburg, and Kelly was roundly criticized the following day for asking Indian Prime Minister Narendra Modi, who has been described as one of the most influential people on Twitter, whether he was on the social media site.