Trump's demands for loyalty have left 48 top Pentagon jobs vacant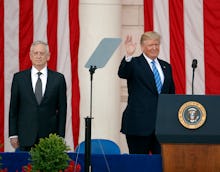 President Donald Trump's concerns over the personal loyalty of potential appointees, as well as business entanglements and reluctance by some to join a scandal-ridden administration, have resulted in a slow process to fill top slots at the Pentagon, with just five of 53 spots currently filled.
McClatchy DC reported on Monday that officials at the Pentagon like Christine Wormuth, the former head of policy at the agency under Barack Obama, said even minor public criticism of the president, like negative social media posts, is now viewed as disqualifying. The problem isn't delays in the Senate, whose approval is required to confirm appointments, but in securing qualified candidates without any major issues.
Two nominees, Army secretary nominee Vincent Viola and Navy secretary nominee Philip Bilden, withdrew after realizing the difficulty of separating their personal finances from a possible public role. Viola's successor as nominee, Tennessee state Sen. Mark Green, withdrew after his history of bigoted remarks on Islam and transgender people surfaced online.
Other qualified applicants have expressed hesitance about joining an administration already under special counsel investigation for its rumored ties to Russia, while around 150 had signed letters denouncing Trump during the campaign, McClatchy DC reported.
"By this point in Obama's presidency, 16 appointees had been confirmed and 24 nominated," McClatchy DC wrote, citing Partnership for Public Service data. "By June 2, 2001, Bush had 12 confirmed and nominated 17. Trump has seen five confirmed after nominating 12."
In the meantime, some positions are filled by Obama-era holdovers who have no real long-term authority and are thus are not making major decisions.
The gaps in the Defense Department are of further concern because Trump has given wide-ranging authority to the military and Secretary of Defense Jim Mattis to conduct operations without White House pre-approval — essentially suggesting that not only has Trump allowed the military an unprecedented amount of power, but undermined its ability to make informed decisions at the same time.