How does Apple Pay work? The new "cash card" lets you send and receive money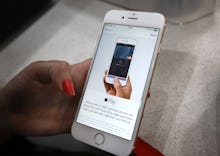 At Monday's WWDC 2017 keynote address, Apple unveiled a surprisingly useful function for Apple Pay: sending cash to your friends in a text message. Enter Apple's new person-to-person payment system, conveniently located in the Messages app. How does it work, how do you use it, how does it fare against Venmo and what is this newfangled "cash card"? Here's everything you need to know.
Apple Pay vs. Venmo: PayPal's popular Venmo app has been pretty much the only socially acceptable way to send your colleague $11 for picking you up a Sweetgreen kale Caesar. Sure, there's also Square Cash and banking services like Chase QuickPay — but Venmo has a built-in emoji-driven social network, ease of use and even Siri support. Soon, with peer-to-peer Apple Pay, you'll be able to send cash using an app in Messages, the same way you'd send a GIF. Apple is putting payments where users already live.
Here's how Apple Pay looks on iOS 11:
What is the Apple Pay cash card? Apple Pay uses debit or credit cards you've added to your Apple Wallet, but it seems like it'll store your received funds separately, like Venmo does, in a temporary wallet called the "cash card."
We don't know much about the cash card yet. According to CNet, "When you receive money, it goes into a 'cash card,' which you can use to make payments to friends and family, make Apple Pay purchases on the web or transfer the funds to your bank." The Verge cautions that Apple might have an ulterior motive for opening a cash card: "Apple is not only coming for the Venmos of the world, but maybe the banks themselves."
Is Apple Pay safe? Sure. Apple Pay verifies your identity with a thumbprint before each transaction, a security system Venmo offers but doesn't require (you can enable Touch ID in the app's settings). Just know that Touch ID isn't hacker-proof, and that biometric technology can be fooled by a similar fingerprint. We'll confirm Apple Pay's security features when we get to try it. The feature, along with everything else on iOS 11, will be available for download this fall.