Apple HomePod: Release date, price, features and everything you need to know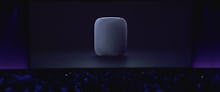 The reports held water — Apple unveiled an Amazon Echo and Google Home competitor during its WWDC keynote on Monday. The smart home speaker, dubbed HomePod, aims to be the brains and DJ of your home.
HomePod is under 7 inches tall, covered in 3-D mesh fabric, has a 7-array tweeter along the bottom, a 4-inch upward facing woofer and is powered by an Apple A8 chip, the same processor that powers the iPhone.
And you can talk to it. HomePod has six mics around the middle. Its wake word is "Hey Siri" — the top of the device will light up to indicate that it is listening to you. Apple's Phil Schiller said that the HomePod won't listen to you until you say the wake word, and once it does, it will send an anonymous Siri ID to help you with your specific command, with all communication encrypted.
Apple wants the HomePod to "reinvent home audio," as Tim Cook said during the keynote, but it is also intended to serve as an overall smart home hub. Schiller said that it can give you updates on the news, weather, traffic, sports, it can set a reminder, a timer and send someone messages. It also syncs up with Apple Music and HomeKit, so you can play music from your library and control your home with voice commands.
The device isn't dissimilar from its competitors in the market, but where Apple lags in timing it makes up for in more enriching sound quality and processing power. HomePod costs $349 and comes in white and space gray. It'll ship this December in the U.S., U.K. and Australia and be available around the world next year.