3 key takeaways from day 1 of Bill Cosby's sexual assault trial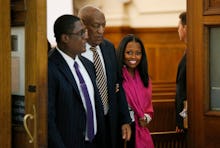 Monday marked the first day of Bill Cosby's trial for allegedly drugging and sexually assaulting Andrea Constand, a former Temple University employee, in 2004.
Though Cosby is only facing charges for his alleged crimes against Constand, the formerly beloved TV patriarch was the subject of sexual assault accusations from some 59 other women — making his one of the most highly anticipated celebrity trials to date.
Here are the key takeaways from day one:
1. Cosby continues to receive support from some of his former Cosby Show costars.
Cosby arrived at Norristown's Montgomery County Courthouse on the arm of actress Keshia Knight Pulliam, who played Rudy Huxtable on Cosby's eponymous sitcom. (Notably absent: Cosby's wife, Camille.)
Pulliam has now both literally and figuratively stood by Cosby amid the storm of sexual assault allegations leveled against him. In 2015, the Cosby Show actress spoke out in defense of her TV dad, lauding him for his character and accomplishments — as did some of her other former co-stars, including Phylicia Rashad, Malcolm-Jamal Warner and Raven Symone.
"Ultimately, I wasn't there," Pulliam told E!. "So I can't really speak to what transpired, I can only speak to the man I know. And he was an amazing, philanthropic, inspirational guy who always treated me very well. … He's done a lot, in general."
2. The prosecution is framing Cosby as someone who used his fame to abuse women.
The prosecution is presenting a cut and dry case against Cosby, arguing that the successful actor and comedian wielded his fame and power as a weapon against women.
"Trust, betrayal and an inability to consent," Kristen Feden, a Montgomery County assistant district attorney, said in her opening statement, according to the Guardian. "This is a case about a man, this man, who used his power and his fame, and his previously practiced method of placing a young, trusting woman in an incapacitated state so that he could sexually pleasure himself."
"Trust, betrayal and an inability to consent. That's what this case is about."
Whether or not Cosby testifies in court (likely not), Feden suggested that Cosby himself has already provided her with the damning evidence she needs to convict him: a recorded interview with police, a deposition and a phone recording during which he admits to drugging Constand.
As the Guardian reported, Feden's case against Cosby will rely heavily on Cosby's previous, potentially self-incriminating, confessions.
3. The defense will try to discredit Constand's allegations.
The defense's legal strategy will rely on discrediting Constand.
In the defense's opening statements, Brian McMonagle insisted Constand was being "untruthful" in her allegations, pointing to phone calls Constand made to Cosby following the alleged attack.
"I believe now that the only thing that is worse than [a sexual assault] is a false accusation of sexual assault," McMonagle said, according to the Guardian's report. "A false accusation of sexual assault, it's an attack … on human innocence. It's not a distraction, it can destroy a man. It's not a distraction. It can destroy his life. It can destroy his future."
Considering the defense's apparent plan to throw skepticism at Constand's testimony, the outcome of the trial rests heavily on Constand's shoulders — especially being that, as the Washington Post reported, her case lacks physical evidence.
"The whole case is going to stand or fall on Miss Constand and her credibility," former Philadelphia District Attorney Lynne Abraham told the outlet.
June 26, 2017, 11:30 a.m.: This story has been updated.
Correction: June 5, 2017
Follow Mic's coverage of the Bill Cosby trial in our main hub here.