Study: Americans want police to stop using force on the mentally ill, as long as they're white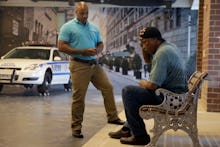 The history of police use of force against people of color is as old as the nation itself, but it's only recently that police are contending with another major factor in police violence: mental health.
Take the case of Deborah Danner, an elderly black woman known to neighbors as schizophrenic, shot in her home while wielding a pair of scissors against police officers. Or Alfred Olango, an autistic black man from California shot by police — unarmed, but not responding to verbal commands.
A full quarter of those shot and killed by police are in the immediate throws of a mental and emotional crisis, and police across the country have rolled out aggressive training so that when cops arrive on the scene of a mental health crisis, they don't end up in a deadly situation.
But when it comes to police using excessive force on the mentally ill, not everyone gets the benefit of the doubt. For many high-profile cases, sympathy for mental illness is reserved for the white, according to a study published this month in the Journal of Experimental Criminology.
"When we talk about all of the mitigating factors and additional training, people are mostly thinking about that in terms of white individuals," Kimberly Barsamian Kahn, the study's author, said in a phone interview on Monday. "But if we look at African-Americans with a history of mental illness, people want police to be more punitive."
Overall, Kahn's study found that people across the board were against police use of force. But when mental health was introduced, opinions were split in two: white victims got additional benefit of the doubt, while force against black victims was seen as more justified.
"This pattern indicates that, for white suspects, mental illness functioned as a protective factor to decrease public support for police force, despite the overall level of support being low for both groups," the study said. "Conversely, when the suspect was black, participants showed relatively more support for police force used against him when he was mentally ill than when he was not mentally ill."
The study's participants were drawn from various communities across Portland, culled together with diversity in mind. Portland was the subject of a 2012 Justice Department investigation that found a systemic problem with the way police dealt with mental health crises and demanded multimillion dollar reforms.
But the investigation didn't make the same sweeping conclusions about race, leaving the African-American community in Portland frustrated that racial bias was left out of the scope of the investigation.
With Jeff Sessions at the helm of the Justice Department, intent on rolling back the rate of these kinds of sweeping investigations into major metropolitan police forces, its up to the public and movements like Black Lives Matter to demand accountability and reform.
"Public is a core part of changing policy, and also how the community trusts and understands police actions," Kahn said. "If the community perceives police use of force as justified, they're going to have higher levels of trust in the police, and have higher perceptions of police legitimacy."
The question is: Who benefits from that reform? As long as the public sees mental health as a shield for white victims and a green light for violence for black victims, the benefits could be relegated to only the usual subjects.