9 TV couples we wish would just settle down and be happy together already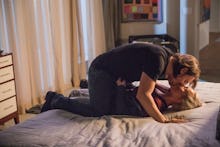 It's common for relationships to blossom and burn out on TV shows, but it's less common for them to last. After all, what's television without relationship drama, right?
Many couples, like Luke and Jessica in Jessica Jones, and Olivia and Fitz in Scandal, despite their obvious chemistry, just can't seem to make things work. Even characters who reach their "happily ever after," like Juliette and Avery in Nashville, and Gretchen and Jimmy in You're the Worst, fall into problems almost immediately after getting together. Why does this keep happening? Can't one couple make it work for the long haul without hitting a seemingly endless list of obstacles?
Regardless of what stage of the relationship these couples are in, however, they all have one thing in common: a passion fans love to watch.
Here are nine couples we wish would find true happily-ever-afters, aka not the ones that exist in television dramas.
1. Scarlett and Gunnar, Nashville
Much like the melancholic tunes they so often sing together, Scarlett and Gunnar's tumultuous relationship always feels tear-worthy. Anyone would think they're turned on by sadness, because they fall into it so frequently. Perhaps that's just the price you pay for singing country songs all the time. After the two musicians finally got back together at the end of season four, things got rocky again pretty quickly: Scarlett had a one-night stand with her music video director. Now she's pregnant, and it's clear her relationship with Gunnar will never be the same.
Despite her vehement naysaying, Josh was the reason Rebecca moved all the way out to California in the first place. At the end of season two, she was about to achieve her dream of becoming Mrs. Chan, until Josh decided to leave her at the altar. Anyone who's familiar with the show knows this will likely result in Rebecca concocting some elaborate revenge plan, but, after the flames die down, they have to find their way back to each other, right?
3. Liza and Charles, Younger
It seems like Liza and Josh are destined to be together, but there's just something about her chemistry with her boss, Charles, that's right on the money. After all, her impromptu kiss with Charles is what ultimately stops Josh from proposing to her (Josh witnessed it) — that has to mean something more will play out with them, doesn't it? If it doesn't on TV, it definitely will in some fans' dreams, that's for sure.
Throughout various Marvel comic iterations, these two anti-superheroes usually manage to come together in one way or other. In Jessica Jones, their relationship starts out as purely sexual, but it's clear there's more going on underneath the skin. That said, season one ends with Luke still in a coma after experiencing blunt force trauma to the head, and Jessica basically says goodbye to him. Perhaps he'll wake up in season two?
5. Olivia and Fitz, Scandal
Okay, so they had that big across-the-White-House-lawn kiss at the end of season six, but does that mean these two political cohorts will wind up together for the long haul in season seven? While things are obviously looking good, don't forget Olivia's dark secret — when she decided to run B613 herself after Fitz took it over. That could definitely resurface and foul up their love story.
6. Juliette and Avery, Nashville
Back in the land of country music, Juliette and Avery have their work cut out for them. They got married all the way back in season three, almost divorced in season four, then got back together at the end of season five right before Juliette boarded a plane that crashed and she almost died. Now, after a baby, endless rehab and the usual Juliette theatrics, will Avery stick with the country music star or head off on tour and finally make his career dreams come true? Tough call, Avery.
7. Claire and Jamie, Outlander
To say these two have had a tumultuous relationship in seasons one and two of Outlander is putting it mildly. Claire and Jamie are different in many ways — the biggest being when they're from — but those contrasts are also complimentary at times. Now, based on season three's trailer, they have a great deal of distance to deal with, considering they're now in different times and places, and anyone who's been in a long-distance relationship knows that can make or break a couple.
The teen-dream couple on Stranger Things started out kind of off-kilter. Even though they were obviously attracted to each other, Steve's bad-boy persona and Nancy's bookishness didn't quite seem to mesh. But that was before Steve stepped up and helped her and Jonathan save the day. At the end of season one, it appears they've reconciled, but Nancy definitely still has a connection with Jonathan. It'll be interesting to see if Steve shows more of his true colors in season two.
From the very first episode, Gretchen and Jimmy, the very worst of the millennial population in Los Angeles, seemed cursed to be together. Over the past three seasons, their relationship has gotten exponentially more complicated due to Gretchen's depression and Jimmy's unstoppable ego. The cliffhanger at the end of season three, however, suggests Jimmy finally did something unforgivable — he proposed to Gretchen, then turned around and left her on a literal cliff. How the two will ever come back from that remains to be seen. If these angry, self-involved kids can't make it work, well, it would make a lot of sense.
Mic has ongoing TV coverage. Follow our main TV hub here.