CoverGirl's latest campaign wants to destroy the stigma of doing your makeup in public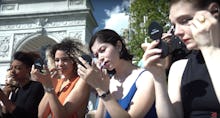 If you've ever done your makeup in public — on a plane, on a train, on a park bench, in the back of a cab — you know that people have a tendency to stare. You imagine them thinking, "What are they doing? Who do they think they are?" Or maybe, "Man, they love themselves a little too much."
In New York City's own subway, there are signs discouraging people from doing makeup on the train. "Clipping? Primping? Everyone wants to look their best, but it's a subway car, not a restroom," it reads.
And that shame right there, this idea that we are only allowed to do our makeup in certain areas, is what CoverGirl's latest campaign, #ProjectPDA, is trying to shatter.
"PDA" stands for "public displays of application," and in the campaign's first video, CG takes aim at why it's so important for the shaming to end completely.
At the start of the video, CG announces that based on a survey of 1,500 women across the country, more than half feel uncomfortable doing their makeup in public.
As two women note in the video, "People think you're vain."
Some women have been asked by cab drivers to put their makeup away. Others have gotten stared down by people simply for doing their makeup outside.
These messages, for CoverGirl, are unacceptable.
"At CoverGirl, we believe that no one should tell you how, when or where you make up," the video says. "It's up to you."
"This is important to CoverGirl, and to people everywhere, because we believe there is beauty in diversity, in celebrating what makes each of us unique, and in empowering people to express this authenticity through their makeup choices however, whenever and wherever they choose," CoverGirl's senior vice president, Ukonwa Ojo, said in an interview.
So to combat this stigma and shaming of women who dare to apply something as simple as lipgloss on their morning commutes, CoverGirl set up a ton of mirrors in New York and invited 500 people to come and do their makeup outside, facing this stigma head-on.
It is, after all, kind of like watching an artist at work. Ultimately, CoverGirl is encouraging people to be unafraid to apply, or even just reapply, makeup in public. You shouldn't have to shy away from a little PDA.
"We hope the video sparks a conversation, and helps people consider the often-trivialized or even stigmatized world of makeup in a new way," Ojo said. "Want to rock blue eyeliner at work? Go for it! No makeup at your birthday party? Who cares? We've always said, 'You do you – and we'll help you rock it.'"
There's just nothing to be ashamed of here.
June 6, 2017, 12:42 p.m.: This post has been updated.