Women got just 7% of the speaking time at Apple's WWDC 2017 keynote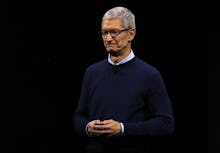 Apple pays a lot of lip service when it comes to diversity and inclusion, but when it comes to its splashy keynote events, it fails. Big-time. Once again, in 2017, the stage was dominated by almost exclusively white men.
We calculated approximate speaking time for men versus women during Apple's Worldwide Developers' Conference keynote on Monday, and gender representation was worse than the last two years. Men spoke for approximately 117 minutes. Women spoke for approximately 9 minutes. Of those 9 minutes, a few were relegated to a woman demoing a product backstage, with another male speaker in the foreground.
This gender disparity in speaking time is marginally worse than Apple's 2015 and 2016 September iPhone events. The three women with speaking time during Apple's WWDC keynote included Vera Carr, iOS software engineer for the Apple Watch; Lauren Ridge, programmer at Epic Games; and Ann Thai, product management for the App Store. What's more, all three of the women who spoke at Apple's event demoed products in their area of expertise — none of them introduced a new product. This isn't unique to this year.
Men spoke for 99 minutes and women spoke for 8 minutes at Apple's September 2016 keynote.
Men spoke for 90 minutes and women spoke for 12.5 minutes at Apple's September 2015 keynote.
According to Apple's 2016 diversity report, the company is overall 68% male and, within the United States, 56% white. The numbers are even bleaker in leadership (72% male and 67% white) and technical roles (77% male and 55% white). It's important for Apple to not just diversify its workforce, but to make sure it is offering the thousands of attendees (and many others watching on livestreams) role models that don't just fit the stereotypical Silicon Valley mold.
We have reached out to Apple and will update with a response.