Evergreen State College reopens after mass shooting threat, campus debate over safe spaces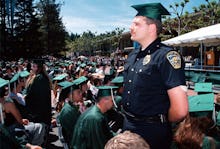 Olympia, Washington's Evergreen State College has reopened five days after being closed down on June 1 on account of threats of violence, the Olympian reported Monday.
According to the paper, university officials had shut down campus after an individual called local police threatening to bring a .44 Magnum to the "communist, scumbag town" and "murder as many people on that campus as I can."
The original closure drew attention because it was possibly linked to a bitter campus debate over safe spaces and biology professor Bret Weinstein, who wrote an email to staff and faculty challenging the school's decision to change its annual "Day of Absence," which had previously encouraged students and faculty of color to not show up on a designated day in protest of racism, to a new format wherein white students and faculty would be encouraged to be absent. After a spree of on-campus protests, Weinstein had defended his email in a letter to the conservative Wall Street Journal, and to the rest of the media (particularly right-leaning outlets) from there.
However, the campus had recently been rocked by other protests against alleged institutional racism there.
College officials shot down the idea the protests are somehow tied to the death threat.
"There is no indication last Thursday's threat is in any way connected to recent events on campus," Communications and Public Relations Manager Zach Powers wrote in an email to Mic.
According to the Olympian, while police have determined there is likely no continuing threat to safety on campus, campus police will be joined by Washington State Patrol detachments for as long as administrators and law enforcement deem necessary.
Some 86 staff and faculty signed a letter supporting protesters who took issue with Weinstein, according to the paper.
"We vehemently reject the claim that students have been violent simply because they have been loud and emphatic," they wrote. "There is a difference between exercising the right to freely voice an opinion and inciting violence — and that difference has nothing to do with volume or forcefulness. We support the demands made by students and honor the positive institutional change they have already achieved through their protests."
Evergreen State College officials did not immediately respond to a request for comment from Mic.