'The Bachelorette' 2017: Bananas, an early elimination and Eric drama in episode 3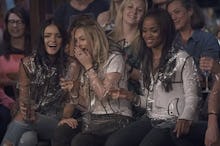 It's week three of The Bachelorette, and one contestant has already been sent home for having a secret girlfriend. What could possibly happen next?
The return of DeMario
Monday night's episode picks up with DeMario returning to the mansion to beg Rachel Lindsay for a second chance. The other guys know that DeMario is a smooth talker, but Rachel is a total queen who has no time for his "boy" antics. Although she does hear him out, she tells him that she's looking for a man and that she's got plenty of those back at the house. Rachel sends DeMario packing once again, and the other guys have even more respect for her.
"He's not coming back, is he?" one contestant asks.
"Fuck no," Rachel says. And with that: DeMario is gone.
A completely bananas cocktail party
Not letting DeMario put a damper on her evening, Rachel continues with her pre-rose ceremony cocktail party. But unfortunately for her, other shenanigans ensue. Lucas complains to Rachel that Blake has been standing over his bed at night peeling a banana and licking it. Of course, Rachel asks the important question: "Did he finish the banana?" He did, according to Lucas.
Lucas and Blake have this strange feud going on right now, so Rachel tries to put an end to the childish drama by confronting Blake about it. But did Blake really stand over Lucas' bed eating a banana? Or is Lucas making stuff up to get under Blake's skin? Blake claims that he couldn't have done it.
"I don't eat carbs, so I don't eat bananas," he says. Well, mystery solved then.
The Lucas and Blake show
Rachel goes through with her rose ceremony and cuts Lucas, Blake and an unidentified male who had no screen time. She clearly made a good decision, because the drama between Lucas and Blake continues when the two men exit the house.
After overhearing Lucas' exit interview, Blake decides to crash it to voice his true feelings about the "Whaboom" guy.
"I just want to say fuck you, bro," Blake says to Lucas. "You're a piece of shit."
After arguing about being on The Bachelorette for the right reasons and debating what's funny — like fart jokes — the two part ways with one final "see ya!" Good riddance to you both.
Thank you, Ellen
Bryan, Peter, Alex, Will, Fred and Jonathan land the first group date of episode three and join Rachel for an appearance on Ellen. Ellen DeGeneres is Rachel's "spirit animal," so Rachel's excited to get her insight on the men.
It's a pretty fun date to watch. Ellen has the six men take off their shirts and work the crowd. The guys take it seriously, dancing and grinding up on all the very happy female viewers in the audience. The laughs continue when Ellen plays a game of "Never Have I Ever" with them. She grills them with questions about whether they've thought about having sex with Rachel, who's peed in the pool at the mansion (only Alex, in case you were curious) and who has already shared a kiss with Rachel. It's that last question about kissing that ultimately leads to an early elimination.
Following Ellen, the group heads out for their post-date cocktail party. Will, Peter and Bryan have all already shared a kiss with Rachel, so that puts the pressure on the other three guys. Alex, who definitely shined on Ellen, finally lands his kiss. Fred does, too — after awkwardly asking permission — but Rachel still can't see past childhood Fred. She sees him as the mischievous kid from her past and decides it's finally time to let him go. He's sent packing and Alex lands the group date.
Anthony's one-on-one date
Anthony's one-on-one date is a bit of a bore to watch. The two ride horses through Rodeo Drive and Anthony gets the rose at the end of the date. There is nothing else really important to report there.
The tables turn on Eric
Brady, Dean, Adam, Kenny, Bryce, Lee, Jack and Eric land the final date of the episode, but they don't exactly get alone time with Rachel. Former Bachelor stars Raven, Corinne, Jasmine and Alexis return to take control of a mud wrestling competition.
The guys have to battle each other to get to Rachel, and at first it seems like an unfair date. Kenny is a professional wrestler who goes by the name Pretty Boy Pitbull — how could the other men stand a chance? Although Kenny does dominate in a couple of his matches, it's Bryce who walks away the winner.
The fun date takes a turn during the cocktail party when Rachel tries to make deeper connections. Raven warns her about Eric, and Rachel wants to make sure that he's there for the right reasons. Eric manages to reassure her and lands the group date rose, but the drama doesn't end there.
Two men approach Rachel about Eric during the pre-rose ceremony cocktail party. Iggy tells Rachel that Eric is questioning how genuine she is, and Lee warns her that Eric has a side he's not showing her.
Is it the end of the road for Eric? Not exactly. Rachel does pull him aside, but she ultimately decides to trust him. However, she does warn him that her "antenna" is up.
Eric uses his second chance to confront the other men about their backstabbing.
"Don't make this about me," he tells them. "Make it about Rachel."
Unfortunately, this only causes more drama. But what would you expect in a house full of men dating one woman?
Mic has ongoing Bachelorette coverage. Check out our main Bachelorette hub here.