'FIFA 18' release date, cover athlete and first trailer revealed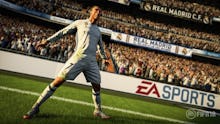 On Monday, EA Sports delivered the first bit of concrete news about FIFA 18. Per the debut trailer embedded below, we learned Real Madrid star Cristiano Ronaldo will be the cover athlete, and that the game will release worldwide on September 29. Here's everything you need to know.
FIFA 18 release date, cover athlete and more
According to the EA Sports website, FIFA 18 will be available for PlayStation 3, PlayStation 4, Xbox 360, Xbox One and Nintendo Switch.
This is the first time Ronaldo has appeared on the cover of a FIFA game, though he has been the cover athlete for EA's rival franchise, Pro Evolution Soccer.
With the PES series coming on strong over the past two years, this is a crucial season for the FIFA franchise. It's the second year the game will run on the Frostbite Engine, so expectations will be even higher than they were for FIFA 17.
EA Sports is going big with all of their cover athletes this year. In May, we learned future Hall-of-Famer Tom Brady would be the cover athlete for Madden 18. 
It appears that Russell Westbrook will maintain his place as the face of NBA Live, and we're still waiting to find out who will be on the cover of NHL 18. 
Cover athlete announcements garner a ton of attention, but they obviously don't determine the quality of the game. And quite honestly, we didn't learn much about the game's feature set from the trailer, but the visuals were impressive.
If the beautifully chaotic scenes can be translated to the playable views in the game, and if this year's version features better player and ball physics, fans will be happy. 
We'll need to see some real gameplay before we know if FIFA 18 raises the bar. FIFA 18 is one of the games that will be playable at EA Play from June 10-12, so expect more impressions, news and updates over the next few weeks.
More sports gaming news and updates
Love sports games? Check out more content from Mic, including tips for leveling up your NBA 2K17 MyPlayer, playing quarterback in Madden 17, our review of MLB the Show 17 and the classic Nintendo sports games we want to see on the Switch.