Report: Jeff Sessions-led DOJ increasingly frustrates Donald Trump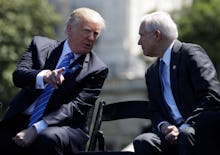 Less than five months into his tenure as president, Donald Trump may have soured on his pick for attorney general, Jeff Sessions, according to the New York Times. Citing anonymous sources close to Trump, the Times reported that Trump blames Sessions for many of the White House's ongoing troubles.
The Times pointed to several of Trump's tweets from early Monday, which seemed to suggest that his relationship with the Department of Justice is in disrepair.
"The Justice Dept. should have stayed with the original travel ban, not the watered-down, politically correct version they submitted to [the Supreme Court]," Trump wrote on Twitter.
In his tweets, Trump very publicly derided the DOJ for its "politically correct" version of the travel ban, which eliminated Iraq as one of the seven majority-Muslim countries whose citizens would not be issued visas. The revised version also eliminated the blanket ban on Syrian refugees and subjected them to the same 120-day vetting process as other refugees. Federal judges struck down both the original ban and its revision.
Trump is also reportedly upset with Sessions over his recusal from investigations into the alleged Russian hacking of the November election. Sessions' recusal paved the way for the appointment of a special counsel, former FBI Director Robert Mueller, to helm the investigation.
According to the Times, Trump felt "blindsided" by Sessions' recusal decision and "unleashed his fury" on Oval Office aides after receiving the news.
While there is a history of the president and Justice Department becoming estranged, it is exceedingly rare for the president to so publicly flog the department, which he oversees.
"I believe it is unprecedented for a president to publicly chastise his own Justice Department," Walter E. Dellinger, acting solicitor general under Bill Clinton, told the Times. Dellinger said Trump's tweets "wholly undercut the idea that there is some rational process behind the president's decisions."
Though Trump tweeted as if he did not approve of the updated ban, he signed the revamped version in March.
Trump's tweets may amount to a disagreement on strategy between lawyer and client — on a highly public, presidential scale.
"What he's saying is, 'I'm the president, I'm the tough guy, I wanted a very tough travel ban and the damn lawyers are weakening it' — and clients complain about lawyers all the time," Alan M. Dershowitz, professor emeritus at Harvard Law School, told the Times. "I see this more as a client complaining about his lawyer. The lawyer in this case happens to be Jeff Sessions."