London Mayor Sadiq Khan asks UK to rescind Donald Trump invite after London attack tweets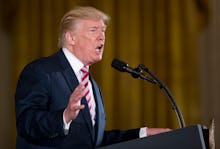 London Mayor Sadiq Khan has requested that the British government rescind its invitation for a state visit to President Donald Trump following his tweets criticizing Khan's response to the London attack, the Guardian reports.
"At least seven dead and 48 wounded in terror attack and mayor of London says there is 'no reason to be alarmed!'" Trump wrote on Twitter.
On Saturday evening, a vehicle drove into pedestrians on London Bridge and attackers stabbed several people at London's Borough Market.
Khan did say there was "no reason to be alarmed" when speaking to Sky News, though he was speaking to Londoners about increased police presence following the attack, not about terrorism.
"Londoners will see an increased police presence today and over the course of the next few days — no reason to be alarmed," Khan said.
Trump presented the remark out of context, implying Khan had said that Londoners should not be alarmed by terrorism.
In a television appearance on Monday, Khan said Trump was wrong about "many things" and indicated that his diplomatic visit should be cancelled.
"I don't think we should roll out the red carpet to the president of the USA in the circumstances where his policies go against everything we stand for," Khan said. "When you have a special relationship it is no different from when you have got a close mate. You stand with them in times of adversity but you call them out when they are wrong. There are many things about which Donald Trump is wrong."
Khan's office initially responded to Trump's criticism by saying Khan had "more important things to do than respond to Donald Trump's ill-informed tweet that deliberately takes out of context his remarks," the Guardian reported.
In response, Trump tweeted that was a "pathetic excuse."
According to White House deputy press secretary Sarah Huckabee Sanders, Trump did not misquote Khan.
"I don't think that's actually true," she said, according to the Guardian. "I think the media wants to spin it that way. The point is there is a reason to be alarmed. We have constant attacks going on not just there but across the globe."
Theresa May, who faces an election on Thursday, has commended Khan on his response and not mentioned Trump at all.
"Sadiq Khan is doing a good job and it's wrong to say anything else – he's doing a good job," May said, according to the Guardian.