6 songs Katy Perry co-wrote for other artists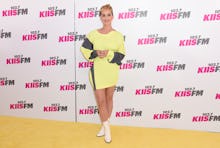 Expect Katy Perry's fans to be chained to the rhythm when her new album Witness is released on Friday.
The singles we've heard from the album so far include "Chained to the Rhythm," "Bon Appétit" and "Swish Swish" featuring Nicki Minaj. But when Perry isn't busy writing her own singles, the singer has penned songs for everyone from Kelly Clarkson to Britney Spears.
Here are six songs she's co-written for other artists:
1. "I Do Not Hook Up" — Kelly Clarkson
For Kelly Clarkson's All I Ever Wanted album, Perry passed along not one but two songs. One of the songs was the second single off the album, "I Do Not Hook Up."
Written alongside Kara Dioguardi and Greg Wells, Perry helped pen the self-empowerment anthem about falling in love rather than having a quick fling. The song is filled with classic Perry lyrics like, "Oh sweetheart, put the bottle down/ you've got too much talent."
2. "Long Shot" — Kelly Clarkson
The second of the two songs Perry gifted Clarkson for her All I Ever Wanted album is "Long Shot." Perry, along with Glen Ballard and Matt Thiessen, co-wrote the pop-rock song for Clarkson. It's a great mix of both artists' styles with catchy lyrics like, "It's a long shot and I say why not/ if I say forget it I know that I'll regret it."
3. "Get On Your Knees" — Nicki Minaj featuring Ariana Grande
Yes, believe it or not Perry helped write "Get On Your Knees" for Nicki Minaj's The Pinkprint album. The sultry track has Minaj and Ariana Grande purring throughout, and the hip-hop-leaning song is a surprising turn for Perry.
4. "Passenger" — Britney Spears
For Britney Spears' album Britney Jean, Perry, along with the help of Sia and Spears, co-wrote the uplifting track "Passenger."
On the song, rumored to have been originally meant for Perry's album Prism, Spears sings inspiring lyrics like, "I'll let you lead the way now/ because I want you to take the wheel," and it's a different sound for the singer.
5. "Black Widow" — Iggy Azalea featuring Rita Ora
Another song originally meant for Perry's Prism is the Iggy Azalea and Rita Ora song "Black Widow." Perry once again found herself back in the hip-hop genre with this track. She helped co-write the fun revenge track about a woman scorned.
6. "That's More Like It" — Selena Gomez and The Scene
Before there was all that bad blood, Perry wrote a song for Taylor Swift's best friend Selena Gomez. Perry co-wrote this pop-rock track for Gomez. "That's More Like It" was written for Gomez's album When the Sun Goes Down and has the signature Perry kiss-off sound.
Mic has ongoing music coverage. Please follow our main music hub here.