6 hit songs you didn't know Katy Perry passed up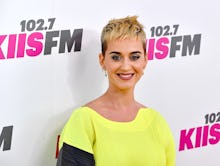 Katy Perry's discography is marked by nine No. 1 hits — from her breakout song "I Kissed A Girl" in 2008 to her most recent chart-topper "Dark Horse," featuring Juicy J, in 2013. After a four-year hiatus post-Prism, Perry resurfaced with her conscious pop song "Chained to the Rhythm," featuring Skip Marley. The single was the first release from her forthcoming Witness, which is expected to drop Friday.
With a portfolio full of catchy radio anthems — many of which she pens herself — Perry has a proven knack for picking out songs that stand out among her competition. This means that not every track she writes or tracks that are pitched to her makes the cut for her albums. So what happens to those throwaway songs? Well a few of them have become popular songs for other big artists. Here are five hit songs you didn't know Katy Perry passed up.
1. Kelly Clarkson, "I Do Not Hook Up"
Perry cowrote "I Do Not Hook Up" with producer Greg Wells and Kara DioGuardi. Perry had intentions of keeping it for herself, but the song didn't make the final track list.
" ... There were so many different songs and there were only 12 slots allotted for the record, so ... it was kind of one of those songs that was just, like, still there," Perry told MTV in April 2009. "And Kelly Clarkson heard it. I guess she liked it, and she recorded it."
2. Iggy Azalea, "Black Widow" feat. Rita Ora
The trap-pop "Black Widow" was supposed to be a Katy Perry song featuring Iggy Azalea. But Azalea really wanted the song for herself and asked Perry if she could record it for her album The New Classic. Perry agreed.
"I said, 'Hey, Katy, why don't you let me take this and do something for it?" Azalea told Ryan Seacrest in May 2014. "I would love to see it kind of come out for the world to hear it asap.' And she said, 'Alright.'"
3. Sia, "Elastic Heart"
Singer-songwriter Sia pitched her emo-pop "Elastic Heart" to Katy Perry, who passed on the track, she told Rolling Stone in December 2015. Instead of giving it away to other artists, Sia settled on recording it herself.
"Basically, if all of the top-tier artists who get the most rotation blow off a song that I think would succeed at radio, I'll then decide to keep it for myself instead of giving it to a next-tier artist who gets less rotation," she explained.
4. Sia, "Chandelier"
In the same Rolling Stone interview, Sia also revealed that her live-in-the-moment anthem "Chandelier" was another track she may have offered to Perry.
"I think I tried to give her 'Chandelier' as well," she said. Sia continued, "I really wanted her to sing some of my songs. Mostly because I love her as a person."
5. Kacey Musgraves, "Follow Your Arrow"
In December 2014, country singer Kacey Musgraves told People that she originally brought her rebel-minded "Follow Your Arrow" to Perry for a writing session.
After hearing the song, Perry told Musgraves, "Honestly it sounds like something you would sing. You should keep it."
6. Beyoncé, "Pretty Hurts"
Sia first e-mailed "Pretty Hurts" to Perry, who never saw the message. Sia then offered the track to Rihanna, whose camp rejected the track. Beyoncé eventually made the track her own. By the time Perry heard "Pretty Hurts," it was Bey's version, Sia told the New York Times in April 2014.
She texted [Sia] Furler: "I'm pretty hurt you never sent me this song." Furler responded: "Check your email." Still sounding disappointed, Perry says, "It was meant to be with Beyoncé, of course."
Mic has ongoing Katy Perry coverage. Please follow our Katy Perry hub here.