"Major Trump supporter" who allegedly killed black man had previously stabbed 2 people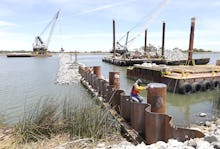 Phillip Wade allegedly stabbed and killed 57-year-old Anthony Johnson in Oakley, California, on Saturday — but as it turns out, the alleged attack would not be Wade's first.
According to the East Bay Times, the 38-year-old Antioch, California, resident and "major [Donald] Trump supporter" had stabbed at least two other people previously: 23-year-old Justin Garza in March 2011, and 49-year-old Kann Cendejas in August 2013.
Wade's friend, Gabriel Desta, said Wade "had many altercations over the years," but that "lately he was getting paranoid — unusually paranoid."
"The other day at Mel's Diner, he told a waitress that he would stab a group of black guys there, saying they were talking bad about him, but they weren't talking about him," Desta told the East Bay Times.
Wade appears to be white. Johnson, whom Wade allegedly killed on Saturday, was black. Wade's previous two victims — Cendejas, who died from his wounds, and Garza, who survived — have Hispanic last names and may have been Hispanic.
Desta described Wade as "prejudiced," but "more of a follower" who became a "major Trump supporter." What appears to be Wade's Facebook page contains hostile comments against black people and Muslims, including a racist post depicting former President Barack Obama wearing a turban.
On Saturday, Wade started arguing with Johnson, a black Pittsburg, California, resident, about sports and politics on a Tri Delta Transit bus. Both men disembarked on Main Street near Charles Way in central Oakley — about 40 miles east of Oakland — and continued their argument on the street.
Soon after, Wade allegedly drew a knife and stabbed Johnson multiple times. A passerby in a car saw what was happening, at which point he drew a gun, ordered Wade to get on the ground and kept him there until law enforcement arrived and arrested him.
The incident took place amid an apparent spike in racist rhetoric that accompanied the rise of Donald Trump, whose presidential campaign regularly targeted black people, Muslims and immigrants. And it's especially alarming in the context of recent events. Since February, several white men with histories of bigoted statements and affiliations have been arrested and charged with murder.
In February, Adam Purinton allegedly killed an Indian immigrant in Olathe, Kansas, after asking for the victim's immigration status and opening fire with a handgun. James Harris Jackson traveled from Baltimore to New York City in March, where he allegedly stabbed a 66-year-old black man through the chest with a sword to dissuade white women from having interracial relationships.
On May 20, Sean Urbanski — who belonged to a Facebook group that reportedly featured disparaging comments about women, Latinos, Jews and black people — stabbed and killed a black United States Army lieutenant in College Park, Maryland. And on May 26, Jeremy Joseph Christian stabbed and killed two white men who intervened while he was directing an anti-Muslim tirade against two teenage girls on a Portland, Oregon, MAX train.
Police are investigating whether there was a direct racial motivation for Wade's alleged crime.