First witness in Cosby trial recalls actor checking to ensure she swallowed the pill he gave her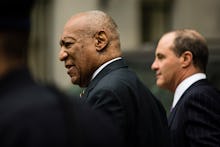 In February, a judge ruled Bill Cosby's June trial would only hear from one of the 13 accusers the prosecution sought to bring to the stand.
On Monday — the first day of Cosby's trial for allegedly drugging and sexually assaulting former Temple University employee Andrea Constand — the courtroom heard from that witness.
According to Jezebel, Kelly Johnson, who worked at the Hollywood agency representing Cosby at the time, testified that around 1996 Cosby had invited her to his Bel Air Hotel bungalow where he allegedly coerced her into taking a pill before sexually assaulting her.
"Would I give you anything to hurt you?" Johnson recalled Cosby saying when he offered her a white pill. "Trust me. They'll just help you relax."
Johnson said she'd planned to hide the pill under her tongue and then go to the bathroom and spit it out. Cosby allegedly foiled these plans, asking that she open her mouth and lift up her tongue to show him she'd swallowed it. So she did.
After that, Johnson said everything went hazy. She said she remembers suddenly being on a bed, with Cosby lifting up the bottom of her dress, pulling down the top of it and then forcing her to touch his penis. Johnson told the courtroom she still doesn't remember anything else that happened that night, including how she got home.
During cross-examination, Cosby's defense attorney, Brian McMonagle, attempted to discredit Johnson's testimony by pointing out she'd never reported the alleged assault to human resources and alleging that Cosby had given Johnson money to pay for her grandmother's medical bills.
Johnson said she didn't remember any precise details about Cosby giving her money. As for why she didn't go to her firm's human resources — Johnson testified that she was scared to speak up about Cosby, the agency's top client.
The day after the alleged assault, Johnson said Cosby called her boss and asked that she be fired. The boss allegedly honored her wishes. When Johnson called her parents upset, she didn't even feel that she could tell them about her alleged assault.
"I felt like I was hurting my parents, to tell them that Mr. Cosby had done this to me," she said. "I couldn't tell them. My mom asked me, 'Kelly did he do anything to you?' ... I didn't tell them the details of what I remembered."
"I was humiliated and embarrassed," she continued. "I was very afraid. ... I had a secret about the biggest celebrity in the world."
June 28, 2017, 4:23 p.m.: This story has been updated.