'Mass Effect: Andromeda' Romance: BioWare misses 2-month window for updates, says next patch "soon"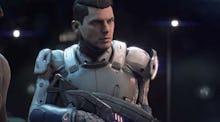 Update: BioWare just announced patch 1.08, which adds Jaal as a romance option for Scott Ryder, contains updates to the character creator and updates Hainly Abrams. The original story follows.
Shortly after BioWare released Mass Effect: Andromeda, it said it would be rolling out a number of significant updates over "the next two months" in order to address a massive wave of fan criticism. That two-month window has come and gone, and BioWare has yet to disclose what the majority of those updates will look like.
However, according to recent tweets from members of the Mass Effect: Andromeda development team, fans might not have to wait much longer to hear about its next update.
What updates are coming to Mass Effect: Andromeda?
To recap, here is the full list of updates BioWare said it'd be releasing "over the next two months" in a blog post it published on April 4:
• More options and variety in the character creator
So far, BioWare has only addressed two of the above points far: improvements to hair and improvements to cinematic scenes and animations. 
The only unreleased update BioWare has explained in detail is its plan for Hainly Abrams, the transgender character who fans criticized for being an insensitive and unrealistic depiction of the trans experience — you can read up on that criticism here.
When will the next Mass Effect: Andromeda update hit?
BioWare has yet to say when its next patch will hit or what it will contain. However, Mass Effect: Andromeda producer Michael Gamble said it will be out "very soon."
Mass Effect: Andromeda lead designer Ian Frazier echoed that message but didn't offer any specifics.
When BioWare makes an official announcement, we'll let you know.
June 6, 2017, 4:00 p.m.: This story has been updated.
More gaming news and updates
Check out the latest from Mic, like this essay about the sinister, subtle evils in rural America that Far Cry 5 shouldn't ignore. Also, be sure to read our review of Tekken 7, an article about the influence of D.Va on one Overwatch player's ideas about femininity and an analysis of gaming's racist habit of darkening villains' skin tones.