What does the winner of 'America's Got Talent' get? Breaking down the grand prize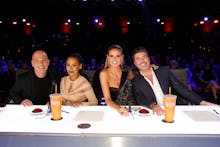 America's Got Talent season 12 premiered on May 30 and contestants are already blowing the judges away. Some highlights from week one include a singing Donald Trump impersonator — who Mel B didn't love — and an amazing 12-year-old ventriloquist who scored the golden buzzer with her singing bunny puppet. So right out of the gate, this looks to be a fun and competitive season.
But what's the incentive for these talented contestants to be the last one standing at the end of the season, aside from the obvious notoriety and bragging rights? Is there a trophy presentation involved in the announcement of the winner, like there is on Dancing With the Stars, or something infinitely better, like a giant wad of cash?
Thankfully for the contestants, who don't get paid every week as the celebs on Dancing With the Stars do, it's the latter. But that's not the only thing the winning performer receives.
According to Movie Pilot, they also score a headline show in Vegas, which anyone who's been in the entertainment business knows is nothing to sneeze at. As for the boasted $1 million prize — that's a bit more complicated.
Forbes used 12-year-old AGT winner Grace VanderWaal as an example of how that chunk of change isn't exactly what it seems. While she can indeed receive the full $1 million, she won't get all of it until she's 52. The prize money is actually paid out in yearly installments over a period of 40 years, and the annual pre-tax payout is only $25,000.
This might not be too bad for VanderWaal since she's so young, but for older contestants, it's not so appealing. The show does offer winners the opportunity to received one lump sum payout, but it could cost them over half their winnings due to fixed interest rates.
Even considering all that prize money red tape, America's Got Talent isn't lacking in people who'd give anything to compete. After all, how can you put a price on fame?
Mic has ongoing coverage of America's Got Talent. Please follow our main America's Got Talent hub here.