iOS 11 lets you bypass Snapchat's screenshot alert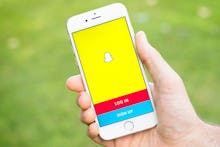 Snapchat is known for calling out anyone it catches screenshotting a photo. Try to grab an onscreen picture of an image you've been sent and Snapchat will alert the sender of your wrongdoing.
Now, with the just-released developer version of iOS 11, everything is different.
The latest mobile operating system from Apple includes a workaround Snapchat probably won't be happy about. You can record other people's snaps without notifying them, and it's unbelievably easy.
iOS 11 makes screen recording on iPhone way easier.
As we saw during the WWDC 2017 keynote, the Control Center has changed shape. Now, Control Center on iOS 11 looks something like this.
The updated panel gives you access to more on a single page than iOS 10 ever did. Additionally, in this newer version, users are able to customize which shortcuts appear on the bottom row in the Settings app. So instead of just Flashlight, Timer, Calculator and Camera, you can swap it out with shortcuts for Apple TV Remote, Notes and accessibility features. You can even throw in a shortcut to the newly introduced screen recording function.
This is the feature that lets you avoid Snapchat's screenshot policing.
Screen recording lets you capture whatever appears on your screen, instantly.
Screen capture on the iPhone isn't new. iOS users have always been able to tether their phones to a Mac, open up QuickTime and record their screens that way. The new screen recording feature, however, lets users even more easily record what they're looking at. New captures are sent to the camera roll in video form.
While recording, opening the iOS Camera app will halt the recording. Not so with Snapchat. I was able to tap the Screen Recording shortcut in Control Center and grab clips like this — without notifying Alexis.
Screen recording on iOS 11 even lets you save videos from Snapchat.
You can even capture videos from Snapchat that are sent to you.
As you can see on Alexis' phone, no screenshot notification was sent to her, even though I recorded the video she sent me on Snapchat.
As of right now, there's no way for Snapchat users to stop their iOS 11-using friends from saving their footage. But this is just the developer version; Snapchat might be working on a solution as we speak, and we don't know if it'll be in the public iOS 11 beta.
Also, as with the screenshot function, developers may be able to tell when users are recording their apps. Similar to how the iPhone camera halts screen recording when opening the app, Snapchat could easily figure this out in an update — ideally before iOS 11's fall release date.