Defying Trump, California Governor Jerry Brown just signed a climate agreement with China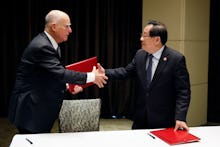 President Donald Trump may have pulled the U.S. out of the historic Paris climate agreement, but that doesn't mean America is done working with international allies to fight climate change.
On Tuesday, during a trip to China, California Governor Jerry Brown signed an agreement with China's Science and Technology Minister, Wan Gang, vowing to work together to develop green technologies and reduce emissions, the Associated Press reported.
Brown was attending an international clean energy conference in Beijing this week, during which he talked about Trump's controversial and widely criticized decision to withdraw the U.S. from the Paris climate agreement. The international pact was signed by 195 countries in 2015 to help fight the devastating effects of climate change by curbing emissions worldwide.
Brown told the AP that to mitigate the U.S. federal government's decision to withdraw from the accord, individual states would have to step up and be leaders.
"Nobody can stay on the sidelines," he said. "We can't afford any dropouts in the tremendous human challenge to make the transition to a sustainable future. ... Disaster still looms and we've got to make the turn."
This isn't the first step Brown has taken to lead the state-level fight against climate change. Brown along with Washington Governor Jay Inslee and New York Governor Andrew Cuomo announced Thursday that they would form an "alliance" of states committed to upholding the terms of the Paris agreement, the New York Times reported.
And Brown's efforts in China to sidestep Trump's withdrawal from the Paris climate agreement aren't merely symbolic — as the AP reported, California has the biggest economy of any U.S. state and the sixth largest economy in the world.