Trump praised Saudi Arabia for cutting ties with Qatar — but he's overlooking these major issues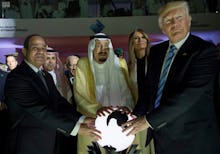 President Donald Trump on Tuesday lauded Saudi Arabia for cutting diplomatic ties with Qatar, saying Qatar is one of the Arab nations funding terrorist activities across the globe and that the move could "be the beginning of the end to the horror of terrorism!"
"So good to see the Saudi Arabia visit with the King and 50 countries already paying off," Trump tweeted Tuesday morning. "They said they would take a hard line on funding extremism, and all reference was pointing to Qatar. Perhaps this will be the beginning of the end to the horror of terrorism!"
But his praise willfully ignores several major problems with Saudi Arabia's move — chief among them that the United States' largest military base in the Middle East is located in Qatar. The base hosts 11,000 military personnel, CNN reported, and has been a crucial launching point for strikes against the Islamic State in Iraq and Syria.
It's something Trump acknowledged in his May 21 speech on combating extremism in Saudi Arabia.
"Qatar, which hosts the U.S. Central Command, is a crucial strategic partner," Trump said in the speech.
Trump's commentary is in stark contrast with the views and messaging from top White House aides, including Secretary of State Rex Tillerson, Secretary of Defense James Mattis and White House spokeswoman Sarah Huckabee Sanders.
On Monday, Tillerson said the U.S. wanted to help Saudi Arabia, and the five other Arab nations that severed Qatari ties, "sit down together and address these differences."
"If there's any role that we can play in terms of helping them address those, we think it is important that the [Gulf Cooperation Council] remain unified," Tillerson said.
Mattis said he was "positive there will be no implications coming out of this dramatic situation at all," according to Politico.
And at her Monday press briefing, Sarah Huckabee Sanders said that Trump is "committed to continuing to have conversations with all of the people involved in that process, with all of those countries."
"We want to continue to deescalate that," Sanders said of the severing of diplomatic ties among the Arab nations. "At this point, we're continuing to work with each of those partners."
And Trump's praise of Saudi Arabia looks past the fact that Saudi Arabia itself has funded terrorism in the past: In 2016, Congress passed a bill allowing victims of 9/11 to sue Saudi Arabia over their alleged role in the attacks. Fifteen of the 19 hijackers in the Sept. 11, 2001 terrorist attack were Saudi nationals.