'Pokkén Tournament DX' release date will hit Nintendo Switch on Sept. 22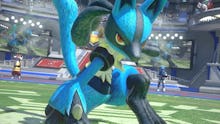 Pokkén Tournament DX is coming to Nintendo Switch. The game will feature multiplayer using split Joy-Con and an expanded character roster, now including Darkrai, Scizor, Empoleon, Croagunk and Decidueye. The new Pokémon will add to Pokkén's 16 previous fighters, which included Pikachu and Charizard.
Pokkén Tournament DX: How will it differ from the Wii U version?
As with Mario Kart 8 Deluxe, the biggest difference for Pokkén will be mobility. Instead of needing to play in front of a television, the game can be taken with you wherever you go. As shown in the Pokkén Tournament DX's trailer, this may lead to numerous roadside battles.
The appearance of Pokkén Tournament on the Switch means the game gets an added control scheme that players will have to master: the Joy-Con. It's unseen if the Nintendo Switch's upcoming arcade controller stick will support the Tekken-style fighting game.
The game will also include 3-on-3 battles, online ranked matches and friendly matches.
Pokkén Tournament DX: An invitational tournament will come to E3 2017
Nintendo also announced an invitation tournament for Pokémon Tournament DX, taking place this month at E3 ahead of the game's official release. Joining Nintendo's E3 plans of a Splatoon 2 and Arms invitational tournaments, the Pokkén Tournament DX invitational will take place on June 14 at 1:30 p.m. Eastern.
Demos of the new Pokkén Tournament will be playable at E3.
Pokkén Tournament will release for Nintendo Switch on Sept. 22.
Check out more Pokémon news and coverage
Read more coverage on the rumored Pokémon Stars, including Nintendo's comments on the potential Switch game and news about Game Freak putting up a now hiring sign. Watch how well Sun and Moon could translate to Switch if it was a thing or read up on why the game may not even arrive until next year. And if you'd rather live in the now, read about Pokémon Go instead.