'Pokémon Ultra Sun and Ultra Moon' Release Date: Gen 7 games return to 3DS on Nov. 17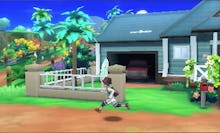 The Pokémon Ultra Sun and Ultra Moon release date will hit Nintendo 3DS on Nov. 17. The game will include new Pokémon not seen in the original generation seven 3DS game: Sun and Moon.
Pokémon Ultra Sun and Ultra Moon release date: What to expect from the rerelease
As with most third game/sequel Pokémon titles, Ultra Sun and Ultra Moon will act as the souped-up version of the Sun and Moon games on 3DS. According to Nintendo's Pokémon Direct, the game will include never-before-seen Pokémon. This likely includes the new versions of Solgaleo and Lunala pictured below.
The new Pokémon title will also feature updated environments, as shown in the rest of the trailer for Ultra Sun and Ultra Moon.
But where is Pokémon Stars? Why not on Switch?
Some watching the Pokémon news may have expected Ultra Sun and Ultra Moon to come to Nintendo Switch. Unfortunately for Switch owners, the games will only be available on Nintendo 3DS, according to Pokémon Direct. With Pokkén Tournament DX acting as the Pokémon Switch game for the moment, fans will have to wait just a little longer for a proper Pokémon game on the newer console.
More Pokémon news and coverage
Read more coverage on the rumored Pokémon Stars, including Nintendo's comments on the potential Switch game and news about Game Freak putting up a now hiring sign. Watch how well Sun and Moon could translate to Switch if it was a thing or read up on why the game may not even arrive until next year. And if you'd rather live in the now, read about Pokémon Go instead.