Former AG Alberto Gonzales: Comey testimony "could be damaging" to Trump administration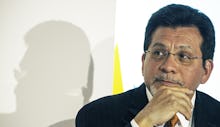 Former U.S. Attorney General Alberto Gonzales says former FBI Director James Comey's impending Senate testimony could be bad news for Team Trump — but the public has only heard one side of the story so far.
"I think politically it could be damaging to the Trump administration," Gonzales said of the former FBI director during a Monday interview on Sirius XM's Patriot Tonight show. "[But] I think it's a far cry from any kind of legal repercussions for anyone in the Trump administration. That'll be the responsibility of a special counsel to get to the bottom of."
Comey, who was fired by Trump in May, is set to testify before the Senate Intelligence Committee Thursday amid an ongoing investigation of potential collusion between Russia and Trump's campaign for president.
Published reports have foreshadowed that Comey may testify that Trump pressured him to drop the FBI investigation into former National Security Adviser Michael Flynn and his ties to Russia.
Trump, the White House announced Monday, has chosen not to exercise executive privilege to prevent Comey from testifying. That, Gonzales said, is typically a move of "last resort" given that such an attempt at intervention could be "very dangerous" for the White House.
"There are political implications whenever you assert privilege," Gonzales noted.
As for what Comey may say, it's anyone's guess right now: "I think that this is going to potentially raise some questions. But again, we're only hearing one side," Gonzales said.
"Jim does have a reputation of honesty, but it still represents only one side, and [in] the America that I know, everyone has a shot to present their side of the story."
Gonzales served as attorney general under then-President George W. Bush from 2005 to 2007. He's now dean of Belmont University College of Law in Nashville, Tennessee.
In the interview, Gonzales also said his personal interactions with Comey gave him little reason to believe the former FBI director would do anything "against his principles" — even ostensibly under direct pressure from Trump, who menaced Comey in a tweet in May, threatening the former director should he start "leaking to the press."
Gonzales said he had trouble explaining away some of the president's more problematic tweets, but said he felt certain that Comey was not the type of person to be deterred by such threats.
"It would take a lot to threaten someone like him," he said. "We're hearing in the media, for example, that even though he may have felt disturbed or worried about some of the comments made by the president, he always felt that he could handle it. And that's the way that Jim Comey is, based on my experience: A man always thinking, 'I can handle this.'"