'Pokémon Gold and Silver' comes to the Virtual Console on Sept. 22, but where's Crystal version?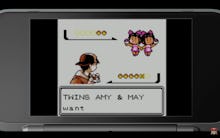 Pokémon Gold and Silver will come to the Nintendo 3DS virtual console on Sept. 22. Releasing the same day as Pokkén Tournament Deluxe on Nintendo Switch, Gold and Silver will be available as a digital download on Nintendo's older handheld console. Despite being on the 3DS, the games will only be playable in 2D.
Pokémon Gold and Silver Virtual Console release date: Legacy games will support Pokémon Bank
Similar to the original Pokémon games that were re-released for the 3DS's Virtual Console, Gold and Silver will have support for Pokémon Bank, according to the Pokémon Direct. Using the app, Pokémon Bank lets you move over Pokémon you've caught in the old game and transfer them to the newer games.
It's unknown whether or not Pokémon you move over from Gold and Silver will have a higher likelihood of hidden abilities. With abilities introduced in Ruby and Sapphire, Pokémon prior to these Game Boy Advance titles have no abilities and are assigned them as they're transferred to Bank.
Pokémon Gold and Silver Virtual Console release date: What about Pokémon Crystal?
When the first set of Pokémon games came to the eShop for the 3DS, Red and Blue were offered up along with Yellow, the third game in the generation one series. Interestingly, Pokémon Crystal is not available to also download from the eShop alongside Gold and Silver.
It's tough to say why Nintendo and the Pokémon Company are holding back Pokémon Crystal from the eShop. Considering the game's improvements like Pokémon animations and the option to choose a playable female character, Crystal is arguably better than its predecessors Gold and Silver. Let's hope we see.
Check out more Pokémon news and coverage
Read more coverage on the rumored Pokémon Stars, including Nintendo's comments on the potential Switch game and news about Game Freak putting up a "now hiring" sign. Watch how well Sun and Moon could translate to Switch if it was a thing or read up on why the game may not even arrive until next year. And if you'd rather live in the now, read about Pokémon Go instead.