9 Airbnbs in wine countries around the world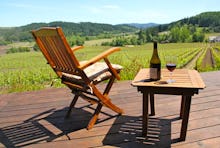 Love wine so much you wish you could marry it? While we can't officiate anything of the sort, we can offer some ideas for enchanting vacation rentals that'll position you either on or perfectly near some of the most paradisiac vineyards on Earth.
From coast to coast and in between, the United States is home to more than 9,000 wineries, making it one of the largest wine producers in the world. Still, there are plenty of international destinations worthy of planning a trip around.
From a castle in the south of France to a quaint cottage in the middle of Pennsylvania, we've rounded up nine inviting Airbnb's that will make any true wine enthusiast feel right at home.
Spend the night at a family winery
A two-night minimum stay in Healdsburg, California
Experience the charm of California wine country by booking a room directly above a winery — how much closer can you get? The winery produces award-winning Zinfandels, Petite Sirah, and Sauvignon Blanc, all of which are grown on the estate. The property is close to several other wineries in Sonoma County, but when guests have had enough, they can find respite at the pool on site. The space sleeps four, but can accommodate larger groups that want to enjoy the property and its serene, picture-perfect views for the day.
Unwind in a homey, vineyard-set hideaway
A one-night minimum stay in Kennet Square, Pennsylvania
Treat yourself to a relaxing getaway with a private patio that overlooks the vineyard. This one-bedroom cottage is just steps away from the tasting room, and a five-minute drive from Longwood Gardens, an expansive botanical garden that you can wander through for hours. This trip is the perfect medicine for anyone in search of some head clearing.
Escape reality as you know it at this mountaintop vineyard
A two-night minimum stay in Vacaville, California
Walking trails that span fields of lavender, bocce ball, a pool that overlooks the San Francisco Bay Area, a welcoming fireplace and a cookbook-stocked kitchen all mean you'll probably never want to come down from this mountaintop paradise. This Airbnb, which accommodates six people, is on a whopping 46 acres, on which you'll find a boutique vineyard as well as those unforgettable lavender fields.
Find solace steps away from an Oregon vineyard
A two-night minimum stay in Gaston, Oregon
Less than 40 miles from Portland International Airport, this beautiful, rustic cabin is positioned just feet away from a working vineyard, so you can admire your one true love (wine) from the comfort of your rented space. The Beacon Cabin, which is roomy enough for one couple, is removed from the city so you'll immediately relax in its pastoral setting. Whether you choose to hike, go on a nearby wine tasting or just recline on the deck, revel in the fact that the views here are unbeatable.
Toast to the good life at a rental that has it all
A 14-night minimum in Cutchogue, New York
You and up to 10 of your closest friends may feel no need to venture outside of this laid-back Long Island escape, and with the saltwater pool and spa, chef's kitchen and all of the tech hook ups you could ever need, no one would blame you. Still, if activity calls, you'll have no trouble finding it at one of the many wineries, farms, beaches and antiquing opportunities, all within the confines of this blissful country town.
Cozy up in this inviting cottage in the countryside
A one-night minimum stay in Madison, Virginia
Don't let the word "cottage" give you the wrong idea; The whimsy of this welcoming, thoughtfully decorated rental will be perfectly balanced by the staggering beauty of the Blue Ridge Mountains. A gas fireplace amps up the comfort factor of the cottage, which is set on 300 acres of property up to four guests can hike and explore. The vineyard is a short walk from home base, and the tasting room has a fire pit and live music if you come at the right time.
Make yourself at home on the first floor of a French castle
A three-night minimum stay in South Burgundy, France
Bonjour, and welcome to your adult fairytale vacation. Stay at Le Chateau de Barnay, a charming, yellow stone castle with enchanting spiral staircases and inviting fireplaces, located in one of the most revered wine territories in the world. This castle fits seven and is equipped with a courtyard and outdoor grounds space with basketball and badminton courts.
If you're not traveling to play ball, you'll be relieved to learn this castle is situated in Saône-et-Loire within Burgundy, which hosts two villages — Givry and Rully — both known for their affordable pinot noir wines. Still, there's no need to limit yourself: The area is ripe with dozens of wineries, so you'll have no problem finding a bottle of something to enjoy in your regal estate.
Admire Tuscan vineyards and olive groves from a private terrace
A one-night (varies) minimum stay in Tuscany, Italy
Perhaps you're less of a castle type and would prefer to take in the sights of lush wineries in an understated farmhouse that lets the European scenery tell the story. This Tuscan apartment, set in a restored barn that dates back to the 1600s, is located 20 minutes from Florence. And lack of castle aside, booking this Airbnb isn't exactly slumming it: Both the terrace and the swimming pool overlook vineyards and picturesque landscapes.
All of this beauty takes place in a small town in Chianti, a territory known for more than just its wines and greenery, but no one's pressuring you to venture outside your comfort zone. This enamoring flat can serve as home to three guests at a time.
Travel back in time in a German wine town
A two-night minimum stay in Rheinland-Pfalz, Germany
Germany: It's not just for beer. The cobblestone grounds and old-country feel aren't just a facade, as these rooms are in the heart of a wine-producing village called Ruppertsberg — population 1,500. Your stay here might very well be more about the access than the digs themselves, as you'll be a short walk away from a host of restaurants, countryside views and, of course, plenty of Riesling wineries.