Melbourne Hostage Situation: Deadly shooting being investigated as act of terror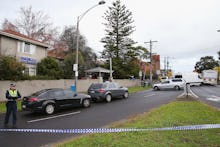 A hostage situation that turned deadly in Melbourne is now being investigated as a terror attack, Australian police told NBC News, and authorities are trying to figure out if the attacker worked alone.
The Monday siege began when the suspect — 29-year-old Somali-born Australian Yacub Khayre —solicited the services of a prostitute and asked her to meet him at an apartment block to the city's south. Once the woman arrived at the address, Khayre killed the building's 36-year-old Chinese-Australian concierge and took her hostage.
Australian Prime Minister Malcolm Turnbull said that the incident with Khayre, who had recently been released on parole, would be treated as an act of terrorism.
"This terrorist attack by a known criminal, a man who was only recently released on parole, is a shocking, cowardly crime," Turnbull said in comments to reporters, according to NBC. "It is a terrorist attack and it underlines the need for us to be constantly vigilant, never to be deterred, always defiant, in the face of Islamist terrorism."
In a phone call Khayre allegedly made to an Australian news station on the day of the attack, he reportedly said, "This is for IS [Islamic State], this is for Al Qaeda."
ISIS later claimed responsibility for the attack through the group's news agency, Amaq, but Australian police are taking the declaration with a grain of salt.
"We're aware of online, them having claimed responsibility, but then they always tend to jump up and claim responsibility every time something happens so we note that that has happened," State Police Commissioner Graham Ashton said, according to NBC.
Police who arrived at the address where Khayre held the 36-year-old Colombian woman hostage were caught in a crossfire when he emerged from the building brandishing a firearm. Three officers were injured in the gunfire, and Khayre was eventually killed.
Australian investigators immediately raised concerns about the possibility that the violence had been inspired by recent acts of terrorism committed in the United Kingdom, including, most recently, a deadly attack on London Bridge.
"We're always concerned about copy cats," Australia's acting police commissioner Michael Phelan said, according to NBC.
Australia's terror threat level is currently at "probably" — the third-highest level on the government's scale.