Apple HomePod vs. Amazon Echo: The similarities and differences, explained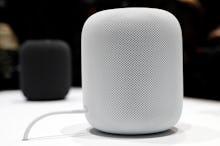 At Monday's Worldwide Developers Conference, Apple unveiled its latest hardware: HomePod. It's a speaker — the gadget costs $350 and will be available in December — that will bring Apple Music and voice assistant Siri to your home. The smart assistant speaker has immediately been compared to others in the market like Amazon Echo, Echo Dot and Google Home.
"What we tried to do is build something that is a breakthrough speaker first," Apple CEO Tim Cook told Bloomberg. "Music is deep in our DNA, dating back from iTunes and iPod. And so we wanted something that, No. 1, sounded unbelievable. I think when people listen to it, they are going to be shocked over the quality of the sound. And of course it does a lot of other things too ... but we wanted a really high-quality audio experience as well."
Here's how Apple's HomePod compares to Amazon Echo. Just keep in mind Apple hasn't released the HomePod yet, so the final product may have more to offer.
Apple HomePod vs. Amazon Echo: Price
HomePod costs significantly more than Amazon Echo. At $350 a speaker, HomePod is nearly double the price of Amazon Echo, which retails for $180. It's also more expensive than Echo View ($230) and Echo Dot ($50).
Apple HomePod vs. Amazon Echo: Similarities
Both speakers come with a built-in smart assistant. For HomePod it's Siri, and for Amazon Echo it's Alexa.
The two speakers also have other functionalities aside from playing music. Amazon Echo, for example, can read the news, provide updates on traffic and weather, read audiobooks from Audible, give information on local businesses, report sports scores, control lights and other things within your home with connected devices. But their approaches are different. Apple's device also offers news updates, weather forecasts, and the ability to control connected home electronics, but the company is taking a "music first" approach.
Apple HomePod vs. Amazon Echo: Differences
The HomePod currently only supports Apple Music. Not a shocking move on Apple's part. But in addition to Amazon's in-house streaming platforms (e.g. Amazon Music, Prime Music), Amazon Echo is compatible with other popular platforms like Spotify, Pandora TuneIn, iHeartRadio and Audible. This makes Amazon's speaker more functional and versatile.
There are spec differences too: HomePod features 7 tweeters, a 4-inch woofer, a 6-microphone array and an Apple A8 chip processor, while Echo features a 2.0-inch tweeter, a 2.5-inch woofer, a 7-microphone array and a Texas Instruments processor. The HomePod is heavier than the Echo — the former is 5.5 pounds and the latter is 2.34 pounds — and the Echo allows for Wi-Fi and Bluetooth connectivity while HomePod only supports Wi-Fi.
As for support for third-party developers, Amazon features Alexa Skills while Apple currently does not offer a comparable service for the HomePod.