It's hurricane season, and FEMA and NOAA don't have leaders yet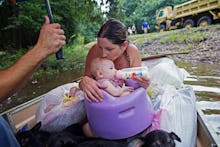 It's officially hurricane season along the Atlantic coast of America — but you wouldn't necessarily know that from looking at our government.
According to the National Oceanic and Atmospheric Administration, 2017's hurricane season, which began on June 1 and ends November 30, will most likely yield a higher-than-normal frequency of big storms along the Eastern Seaboard. NOAA forecasters predict a 70% chance of up to 17 named storms and up to four major hurricanes — compared to the seasonal average of 12 named storms and three major hurricanes.
But despite the warning from scientists, residents of those areas along the East Coast most susceptible to serious damage from big storms will enter 2017's hurricane season — the time of year during which Hurricane Katrina devastated the Gulf Coast — without leadership of the government agencies instituted to protect them from environmental disasters.
According to CNN, no leader has been confirmed by the Senate for either the NOAA or the Federal Emergency Management Agency, two groups that are crucial in tracking major storms, issuing warnings about life-threatening weather conditions, aiding in evacuation efforts and offering relief to residents.
"That should scare the hell out of everybody," former U.S. Lt. Gen. Russel Honoré said to CNN. "Just look back to Hurricane Katrina to see how important leadership was. If someone is slow in making decisions it can be costly— imagine having no one at all."
Though President Trump did appoint Brock Long, a former Alabama Emergency Management Agency director, to lead FEMA in April, the Senate has yet to vote on his confirmation.
As of Tuesday, Trump still had not appointed anyone for leadership of the NOAA, which overseas the National Weather Service, the agency responsible for issuing the first alerts of potentially hazardous weather conditions.