A female Muslim student was called a "fucking terrorist" by her classmate. Then, she was suspended.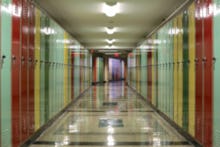 The Council of American Islamic Relations' Minnesota Chapter is calling on law enforcement authorities to investigate an Apple Valley High School security guard and police officer for allegedly using excessive force on a female Muslim student after she faced Islamophobic harassment.
The Muslim civil rights group said a male classmate taunted the student, who wears the hijab, and called her "a fucking terrorist." According to CAIR-MN, the student's hijab was removed from her hair when the police officer exerted excessive force. She was later taken out of school and sent to her parents.
After the incident, school administrators met with the Muslim student and her family on Friday before suspending her for the rest of the school year, Twin Cities Pioneer Press reported. CAIR-MN said following the altercation between the police officer and the student, the advocacy group received about a dozen complaints from Apple Valley High Muslim students who felt unsafe and concerned about the police officer.
"We are concerned about the apparent use of excessive force in this incident and about the suspension of the Muslim student, who appears to have been a victim of bullying," CAIR-MN Executive Director Jaylani Hussein said in a statement. "We are also concerned about the growing number of Muslim students who report feeling unsafe because of how this incident was handled by the school officers."
According to Pioneer Press, Apple Valley High police spokesman Capt. Nick Francis said the police department has not yet received a formal discrimination or excessive force complaint. Francis said that the student was removed from school after the initial incident because she was unable to calm down.
Tony Taschner, a spokesman for Rosemount-Apple Valley-Eagan Public Schools, said on Tuesday that data privacy laws prevent her from releasing information that involves a student's data. Mic inquired about details of excessive force used on the student, the basis behind her suspension and if any initiatives were taken to alleviate the concerns of other Apple Valley High Muslim students.
"The incident is being investigated and data privacy laws prevent the district from commenting on matters involving individual student data," Taschner said in an email.