British Muslims reported suspects to authorities in London and Manchester. Here's why that matters.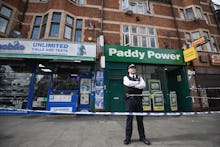 British Muslims reportedly notified the anti-terrorism police concerning the suspects in the London Bridge attack and the Manchester bombing, according to recent reports.
Neighbors and ex-friends of the attackers in London told members of the press that they had contacted law enforcement multiple times about one of the alleged attacker's extremist views, BuzzFeed U.K. reported.
An unidentified man, who said he is a former friend of one of the suspects in the London attack, told BBC Asian Network that he notified police through their anti-terror hotline after hearing several comments about past terrorism attacks. He reportedly said that the anti-terror police failed to take action after his report.
"I phoned the anti-terrorist hotline, I spoke to the gentleman," he said in the BBC interview. "I told him about our conversation and how and why I think he has been radicalized."
"I did my bit, I know a lot of people did, but the authorities didn't do their bit and that's what's shocking," the man added.
Another person, Erica Gasparri, also said she reported Khuram Butt — one of the alleged suspects — to the police about two years ago. She said she was afraid he was radicalizing children in a local park, according to the Guardian. Butt, 27, also reportedly appeared in a Channel 4 documentary in 2016 about British jihadis and was filmed having an altercation with police after an Islamic State-style flag allegedly was laid out in Regent's Park.
These reports come about two weeks after Salman Abedi allegedly detonated a suicide bomb at an Ariana Grande concert at Manchester Arena, killing 22 victims. According to several reports, Abedi was reported to the authorities five different times within five years before the attack. Two people had reportedly made separate calls to the country's anti-terrorism hotline to warn authorities about his extremist views. 
Conservatives have often stated that Muslims are reluctant to help law enforcement authorities thwart terrorism. President Donald Trump did the same in the wake of the shooting at Orlando gay nightclub Pulse.
"They don't report them," Trump said in a CNN interview, referring to Omar Mateen, who killed 49 people. "For some reason, the Muslim community does not report people like this."
But that's simply not true.
U.S. officials, including former FBI director James Comey, has said that the Muslim community has been an essential tool in reporting extremist threats. And Muslim community members have been doing their part in thwarting terrorism since 2001. Based on data from University of North Carolina sociology professor Charles Kurzman, the Muslim American community has given almost three times as many tips to the U.S. government compared to foreign government allies. Tips given from Muslims in the U.S. are also almost on-par with those given by the FBI and CIA.
Alejandro Beutel, a researcher at University of Maryland's National Consortium for the Study of Terrorism and Responses to Terrorism, said that Muslim communities have been an asset in reporting threats and suspicious activities.
"We do know that Muslim communities have been very helpful in reporting threats of extremist violence when they are aware of it, because once it's okay to do so — meaning it will not jeopardize an investigation or potentially harm a tipster's safety — then public officials will often disclose to media outlets that they received a tip from community members or family," Beutel said in an email.
Beutel said the reason why law enforcement was hesitant to act on tips from British Muslims via the anti-terrorism hotline is that there is a difference between extremist ideas and extremist violence. The researcher said law enforcement agencies are unable, not unwilling, to act based on the intel given to them since the suspects didn't break any laws or haven't yet demonstrated any clear intent to enact violence. Beutel said many individuals can hold extremist views, but never act on them. He said, in fact, most don't.
Beutel suggested that community-led and community-sourced efforts should be considered as an effective counterterrorism strategy. 
"A third option is needed, which is to establish community-led emergency safety nets so that such individuals can be put into counseling rather than handcuffs," Beutel said. "Entry into extremist violence is extremely complicated, typically driven by multiple factors, thus defying any cookie-cutter explanations." 
One factor that may entice vulnerable people to engage in extremist violence, as Labour Party Leader Jeremy Corbyn mentioned after the Manchester bombing, include the British's military involvement in the Middle East. 
In response to the London attack, Prime Minister Theresa May called for more internet regulations, which could include restrictions on encryption and further invasive surveillance on people using online communication without a warrant. Encryption is considered vital to domestic violence victims or vulnerable people that are often targeted with cyberstalking, harassment and death threats.
May, who served as home secretary for six years overseeing the U.K.'s national security, also said that there has been "far too much tolerance of extremism in our country." Several other conservative pundits have called for collective punishment and further scrutiny of the British Muslim community in order to stomp out terrorism and radical extremist ideology. But it seems like the easiest, and perhaps the most effective, way to combat terrorism is to offer Muslims a seat at the table and truly listen to them.