Notre-Dame Cathedral: Paris police officer injured after reportedly being attacked with a hammer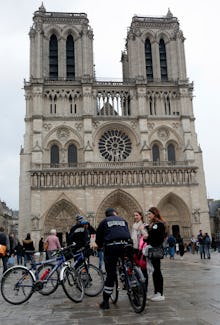 Authorities in Paris are responding to an incident near Notre-Dame cathedral, one of the city's most noteworthy tourist sites, after a man reportedly tried to attack a police officer with a hammer, the BBC reported on Tuesday.
Reuters reported in a tweet that Paris police shot and injured the man who reportedly injured a police officer.
The suspect shouted "this is for Syria" during the incident, French Interior Minister Gérard Collomb said on Tuesday, the BBC reported. Collomb also said the suspect was carrying kitchen knives and "the identity card of an Algerian student," according to the BBC.
French police are launching a terror investigation into the attack.
The police officer who was reportedly attacked sustained minor injures. The suspect, whose identity has not yet been released, was wounded in the chest and taken to a local hospital.
Just days ago, three attackers killed seven people and injured 48 more in the U.K. when they drove a vehicle into a crowd on London Bridge and then stabbed people at Borough Market.
June 6, 2017, 1:21 p.m.: This story has been updated.