iOS 11 Beta Release Date: How to get the new operating system before everyone else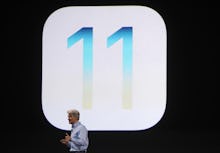 At Monday's Worldwide Developer Conference in San Jose, California, Apple introduced its next-gen operating system: iOS 11. The new OS comes with an array of updates and features that promise to take iOS devices to the next level.
If you're looking to experience the new operating system as soon as possible, know that you can do so by signing up for the Apple Beta Software Program, which allows you to "take part in shaping Apple software by test-driving prerelease versions" for free.
The iOS 11 public beta is not available yet — Apple says it is "coming soon." But that doesn't mean you can't sign up for the beta program.
To access the Apple Beta Software Program, you need to sign up using your Apple ID. Here, users can access pre-released software and have the option to provide feedback to Apple using the built-in Feedback Assistant app.
Since beta software is not the final product, Apple recommends backing up your device prior to installing the beta software. "Please note that since the public beta software has not yet been commercially released by Apple, it may contain errors or inaccuracies and may not function as well as commercially released software," Apple writes.
More iOS 11 news and updates
Can't wait for iOS 11? Here's everything you need to know about Apple's new mobile operating system. Check out our guide to the biggest iOS 11 bugs so far, along with all the new features: how to record your screen, how to block texts while driving, new effects in Messages, how it lets you bypass Snapchat's screenshot alert, iOS 11 dark mode, peer-to-peer Apple Pay, and of course the iOS 11 beta release date.