'Tekken 7' Kazuma Kiryu: 'Yakuza' protagonist is the most requested DLC character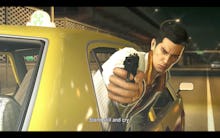 Tekken 7 is out, but that doesn't mean they're done adding new characters. Discussion is already underway about a potential new guest character to the series.
Back in April, game director Katsuhiro Harada tweeted and asked people for their suggestions.
Tekken 7 Kiryu: Yakuza protagonist is the most wanted new character for a Tekken 7 DLC
According to this post on TekkenGamer, it seems that Kazuma Kiryu from the Yakuza series has the biggest support. This could be an interesting crossover for the Tekken and Yakuza franchises.
Bandai Namco and Sega have merged on other games like Super Smash Bros 4 with Pac-man and Sonic, so anything is possible. And compared to some of the other suggestions, like Goku or Chun-Li from Street Fighter, this suggestion seems to be the most possible.
More gaming news and updates
Check out the latest from Mic, like this essay about the sinister, subtle evils lurking in rural America that Far Cry 5 shouldn't ignore. Also, be sure to read our review of Tekken 7, an article about the influence of D.Va on one Overwatch player's ideas about femininity and an analysis of gaming's racist habit of darkening villains' skin tones.