Betsy DeVos "refuses to affirm" that she would protect LGBT students from discrimination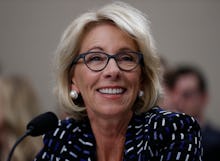 Sen. Jeff Merkley (D-Ore.) slammed Secretary of Education Betsy DeVos Tuesday when she "refused to affirm" that her department would protect students from discrimination in her testimony before the Senate.
"I think that's very important for the public to know that today, the secretary of education, before this committee, refused to affirm that she would put forward a program that would ban discrimination based on LGBTQ status of students or would ban discrimination based on religion," Merkley said.
The testy exchange occurred during a Senate hearing on President Donald Trump's proposed 2018 budget, which calls for massive cuts to education.
DeVos had said that "federal law must be followed" by schools receiving federal funds. Merkley countered that federal law is often unclear on issues of discrimination, and pressed her to say whether her Department of Education would protect students in all cases.
"I've said it before and I'll say it again," DeVos told Merkley. "Schools that receive federal funds must follow federal law."
"And I just said the federal law is foggy," Merkley said. "So in your understanding of federal law, will such discrimination be allowed?"
DeVos said that on areas where the law is unsettled, "this department is not going to be issuing decrees."
"That is a matter for the Congress and courts to settle," DeVos said.
"I think you just said where it's unsettled, such discrimination will continue to be allowed under your program," Merkley said. "If that's incorrect, please correct it for the record."
DeVos did not directly respond to Merkley's questions, instead saying that "discrimination in any form is wrong" and repeating that "schools that receive federal funds need to follow federal law" by schools receiving federal funds.
"Saying the same thing 10 times when you're not answering the question does not help," Merkley said.
This wasn't the first time DeVos gave a wishy-washy answer to questions about discrimination. In a May hearing before the House Appropriations Committee, she refused to say whether the Department of Education would deny federal funding to charter or other private schools that discriminate against students.
"By once again turning a blind eye to LGBTQ students who experience discrimination in school, Secretary DeVos continues to prove why she was the wrong choice to lead our nation's education system," Sarah Kate Ellis, President and CEO of GLAAD, said in a statement. "DeVos once claimed she was an LGBTQ ally, but has now supported back to back policies that would erase LGBTQ students from classrooms. If she wants to be known as more than an anti-LGBTQ activist the time is now to reverse course."
June 6, 2017, 1:07 p.m. Eastern: This story has been updated.