What's happening with the search to replace former FBI director James Comey?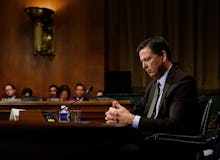 As we await former FBI director James Comey's testimony Thursday about his firing by President Donald Trump, details about the search for his replacement have been scarce.
The focus has been on Comey as deputy White House press secretary Sarah Huckabee Sanders confirmed during yesterday's press briefing that Trump will not try to prevent Comey's testimony by invoking executive privilege. Comey is expected to discuss allegations that the president pressured him to end an investigation into former national security adviser Michael Flynn.
While the world has been distracted by Trump's "covfefe" tweet, his unpopular withdrawal from the Paris climate accord and his recent feud with London's mayor following that city's terror attack Saturday, here's a look at the key developments in the search for a new FBI director.
At least six candidates withdraw themselves from consideration
Former U.S. Sen. Joe Lieberman was considered a top contender for the job, but Lieberman himself told MSNBC that such an appointment would "look terrible" because he now works for the same law firm as one of the president's lawyers.
Lieberman officially withdrew himself in a letter to Trump delivered May 24, which the Washington Post quoted as saying,
With your selection of Marc Kasowitz to represent you in the various investigations that have begun, I do believe it would be best to avoid any appearance of a conflict of interest, given my role as senior counsel in the law firm of which Marc is the senior partner.
Throughout May, four other contenders also withdrew themselves from consideration for the job.
In a public statement, Rep. Trey Gowdy (R-S.C.) said he told Attorney General Jeff Sessions it was his "firm conviction" he was the wrong person for the job.
One day later, Sen. John Cornyn (R-Tex.) released a similar statement removing himself from consideration, saying, "[T]he best way I can serve is continuing to fight for a conservative agenda in the U.S. Senate."
On May 20, sources confirmed to ABC7 News that former FBI official Richard McFeely decided he didn't want the job following a meeting with the president.
According to CNN, former Assistant Attorney General Alice Fisher and Associate Judge Michael Garcia of the New York Court of Appeals also declined further consideration for the position.
CNN reported May 24 that Acting FBI Director Andrew McCabe, former congressman and FBI special agent Mike Rogers and Fran Townsend, former Homeland Security adviser under President George W. Bush, were still in the running for the role. Rogers has the support of the FBI Agents Association.
Trump could stall until December
McCabe has 210 days to temporarily occupy the top FBI post. That places his legal end date at Dec. 5, 2017, according to CBS News.
While Senate inaction on a theoretical nominee could extend McCabe's tenure, such a situation would be unprecedented.
Trump could also nominate McCabe for the permanent role of FBI director, but the acting director's willingness to publicly refute Trump administration claims he finds inaccurate make him an unlikely candidate.
During McCabe's testimony in front of the Senate Intelligence Committee, he directly contradicted the Trump administration on at least two points regarding the FBI's Russia investigation and the level of support Comey enjoyed at the bureau before his dismissal.
But for now, McCabe remains in charge of the law enforcement organization as the country focuses on the next chapter in the blockbuster Comey saga.